Below you will find a list of Forex Brokers that accept Canadian clients, whether they are Canadian citizens or just residents. All forex traders from Canada are welcome to check this page to find a suitable broker that matches their needs. Due to relatively strict rules and regulations on FX companies and spot trading in Canada, there are some international forex brokers that unfortunately do not accept Canadian clients. This has made it somewhat difficult for Canadian traders to find a broker, although it is still easier than it is for US traders. To make the job of finding a broker easier, FX-List has identified a number of unbiased brokers accepting CA forex traders.
Did you know?
Foreign exchange trading in Canada is getting more popular by the day. The Canadian Foreign Exchange Committee conducts a semi-annual survey of trading activity in the Canadian spot FX market. Its April 2022 semi-annual survey indicated that the total FX trading turnover at that time was $2.84 trillion. This figure covered spot transactions in retail Canadian FX brokers, FX swaps and FX forward contracts. Spot transactions increased by 1.5% to $US 20.6billion daily. Daily turnovers for conventional FX products showed a 9.2% rise over the previous survey numbers of October 2021 and a 33.8% increase in FX derivatives. If you are looking for a forex broker for CA traders, you need to take these figures as an incentive to choose from the list above.
These are exciting times in the forex market. After pushing down interest rates to near-zero levels to boost economic recovery from the COVID-19 pandemic, central banks are tightening rates once more to control inflation. The situation is producing more volatility in the forex market. With the ongoing conflict between Russia and Ukraine also producing a new dynamic in the energy markets, Canadian FX traders have much to look forward to. But the journey starts with the forex brokers for CA traders that accept Canadian clients. So who are these brokers, and what can Canadian forex traders hope to gain from their services? These will be covered below.
What are the Needs of Canadian Forex Traders?
CA forex traders (Canadian forex traders) have peculiar needs due to the unique regulatory environment in the Canadian jurisdiction.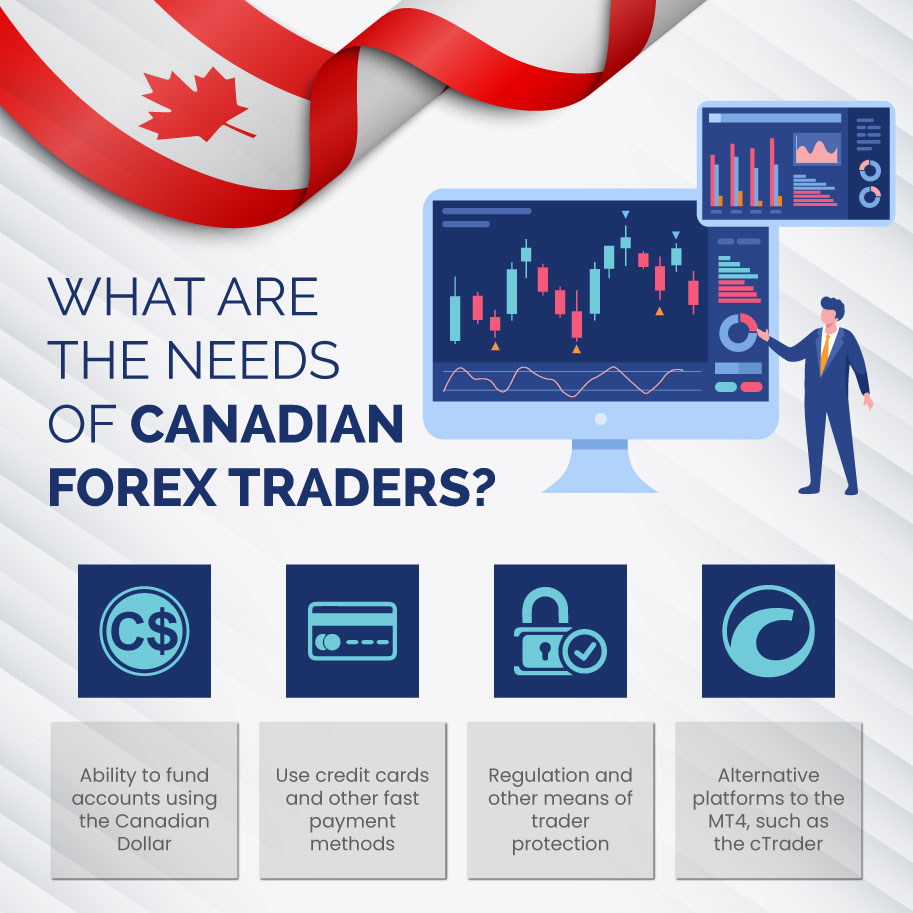 Apart from having to deal with several regional regulators, there have also been some changes in the operations of forex brokers in Canada due to business decisions by Western companies to boycott the MetaTrader 4 and MetaTrader 5 platform. This is related to the ongoing Russia-Ukraine conflict. Furthermore, CA forex brokers must fulfill the individual desires of their Canadian clients, and only forex brokers who meet these requirements can function as genuine forex brokers for CA traders. Here is a summary of the peculiar needs of CA forex traders.
Ability to fund accounts using the Canadian Dollar.
Use credit cards and other available payment methods that guarantee the speed of deposits and withdrawals.
Regulation and other means of trader protection.
Alternative platforms to the MT4, such as the cTrader, IRESS, Currenex and others.
Funding accounts with the Canadian Dollar means you can use the local currency and not bother about the impact of volatile exchange rates on your deposit if sourcing foreign currency. Your local currency works just fine when funding your accounts. You can also use your credit/debit cards and other deposit/withdrawal e-wallets, such as PayPal, Skrill, etc, when transacting on the brokerage's platform.
The issue of regulation has become critical, especially with the collapse of Canadian crypto exchange QuadrigaCX and, lately, the 2nd largest crypto platform, FTX. Regulation of the forex market in Canada occurs mainly at the regional level, even though there is a national regulator. The Investment Industry Regulatory Organization of Canada (IIROC) is the national regulator of Canada's forex industry. It functions more like a self-regulating industry organization. Regional regulators exist. These are:
Autorité des marchés financiers (AMF) supervises financial services companies in the Quebec region and is the best known of the three regional regulators in the Canadian FX space.
British Columbia Securities Commission.
Ontario Securities Commission.
January 1, 2023 will usher in a change in the regulatory structure for financial products in Canada, as the Mutual Fund Dealers Association will merge with the national regulator (IIROC) to form the New Self-Regulatory Organization of Canada. This organization will oversee the dealing firms in Canada. For offshore forex brokers accepting Canadian clients, they will be expected to have a measure of regulation from their home countries, ensuring an acceptable level of investor protection for CA forex traders.
Then there is the issue of the trading platforms on which Canadian forex traders can conduct business. An unfortunate event arising out of the Russia-Ukraine war is the unwillingness of several Western financial services companies to continue working with Metaquotes, the Russian company behind the iconic MetaTrader 4 retail platform. This has seen the MT4 and MT5 delisted from the Apple store. Several white-label companies have pressured some brokers to stop working with MT4. Some forex brokers for CA traders domiciled in Canada may have stopped offering the MT4. But if you work with offshore forex brokers for CA traders accepting Canadian clients, you will still have unrestricted access to the MT4 and MT5 platforms.
Who are the Forex Brokers Accepting Canadian Traders?
These are forex brokers licensed to operate within Canada on the one hand, and offshore forex/CFD brokers that accept Canadian clients on the other. Some offshore brokers will only accept Canadian clients conditionally, while some will not accept Canadian clients at all.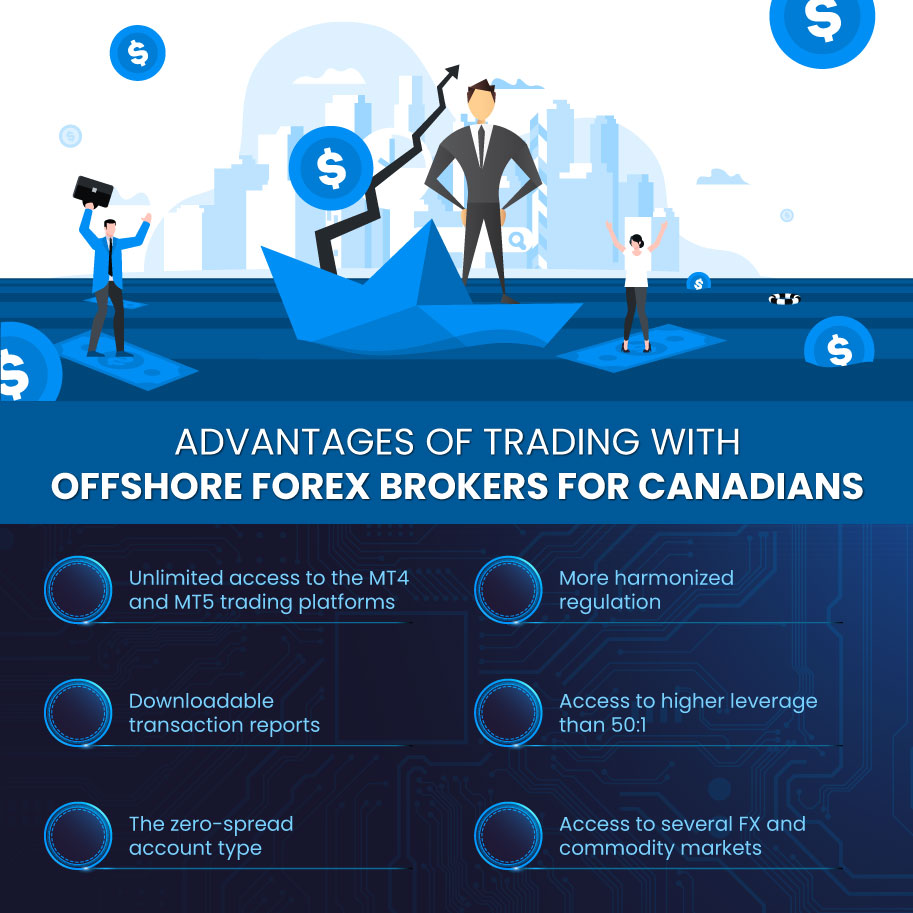 The list at the top of the page includes offshore Forex brokers for CA traders accepting Canadian clients. Trading with onshore brokers has its benefits and some impediments that Canadian FX traders may be hard-pressed to overcome. One of these is the initial capital requirements to open a local forex brokerage account. The second is the growing dissociation by local brokers from the MT4 platform, robbing traders of the opportunity to trade with one of the best platforms that retail FX trading offers today.
Official data confirm the growing discontent among retail traders regarding the stringent conditions regulators and operators in Western jurisdictions. Take the US, for example. A recent report by the CFTC shows that retail FX deposits in US-based brokerages have been on a steady decline. Year-on-year, the number of active traders is down by nearly a quarter.
Traders are looking for better options. When trading with offshore forex brokers for CA traders, some benefits will accrue to the trader. These are as follows:
A) Unlimited access to the MT4 and MT5 trading platforms and all the associated plugins and software available on the MQL marketplace.
B) More harmonized regulation.
C) Downloadable transaction reports that make for easy filing of tax documentation with the Canadian Revenue Agency.
D) Access to higher leverage than the 50:1 cap currently offered. This also reduces the margin requirements for each trade.
E) The zero-spread account type is just making its way into the Canadian FX market. But this has been offered by some of the offshore forex brokers for CA traders accepting Canadian clients for some time now. The zero-spread account is an account for which no spreads are paid. However, commissions are charged per lot on each trade's buy and sell side.
F) You can access several FX and commodity markets that are either directly linked to the local currency (Canadian Dollar or CAD), or have some form of correlation with the CAD.
Conclusion
Forex brokers for CA traders (accepting Canadian clients) include those located offshore to provide alternatives to Canadian traders seeking more pliable trading options. Some of the unaddressed needs of this segment of the market can be taken care of by the brokers found on this list. With official data showing that more traders want greater flexibility in contract specifications, the forex brokers for CA traders in this list could provide viable alternatives. Go through the list and select the ones that give you what you desire in a forex brokerage.