Below you will find a list of Forex Brokers that offer Direct Market Access (DMA) order execution. Typically, brokers provide DMA trading accounts only to institutional and premium clients. Hence, you have to deposit significant amount of funds to get on board, although this is not always the case. The DMA is very similar to the STP, but traders receive quotes from much wider range of global banks and liquidity providers. Another positive side is that transaction costs are slightly lower compared to other types of accounts. True DMA execution usually is offered by Forex Brokers operating in countries with advanced interbank markets.
Did you know?
As far as the forex market is concerned, the term "direct market access (DMA) brokers" is used to refer to a model of forex brokerage where the trader is given access to the interbank market in terms of trade pricing and order execution. DMA forex brokers do not handle any orders at the dealing desk. They are therefore also known as non-dealing desk (NDD) brokerages. They can be said to be the 100% true NDD brokerages.
DMA forex brokers basically work directly with the major banks that operate in the interbank market. These banks provide the interbank market liquidity and include entities such as Deutsche Bank, BNP Paribas, Bank of America, UBS, etc. The DMA brokers aggregate bid-ask prices from these prime brokerages using an aggregator engine and transmit these prices to their clients. When the clients select a particular bid-ask price belonging to one of the liquidity providers, the DMA forex broker sends these orders directly to the interbank market for execution.
There is usually some confusion as to the similarities and differences between ECN and STP brokers. Many times, traders confuse both types of brokers to mean the same thing. While they are similar in some respects, there is a key difference between the DMA brokers and the ECN brokers. DMA brokers typically do not send their clients' orders to prime brokers; rather, they send them directly to the banks that act as liquidity providers (i.e. Tier-1 brokers) in the interbank market. That is where the term "direct market access" came from; giving clients and end-traders 'direct access' to the interbank forex 'market' where the liquidity providers (and not a prime broker) will act as the counterparty to the trades.
How Does DMA Work?
For any brokerage operation, there is a front-end (which is the trading platform that the trader sees on his/her trading station), as well as mid-office and back-office components. Using the back-office components (which include a price aggregator engine), the DMA forex broker obtains pricing from several liquidity providers, and sends these bid-ask price quotes to their clients.
The clients may get up to 8 of these bid-ask price quotes. What this means is that each of the liquidity providers whose prices are featured on the DMA forex broker's price aggregation engine, will indicate at what price they are willing to sell a currency pair (ASK price), and what price they are willing to buy a currency pair (BID price) from the trader. Usually, a trader who wants to sell a currency pair will select the highest bid price, while a trader who wants to buy a currency pair will choose the lowest ask price. Once a selection is made, the trader clicks the order button, and the information is transmitted to the specific liquidity provider in the interbank market whose prices have been chosen, for execution.
It is not just price quotes that the DMA forex broker will show to clients on the platform. Also displayed on the trading platform are the Level II quotes, which are also known as the Market Depth price quotes. This information tells the trader who is buying or selling at a particular price, and how much trading volume is looking to buy or sell at a particular price.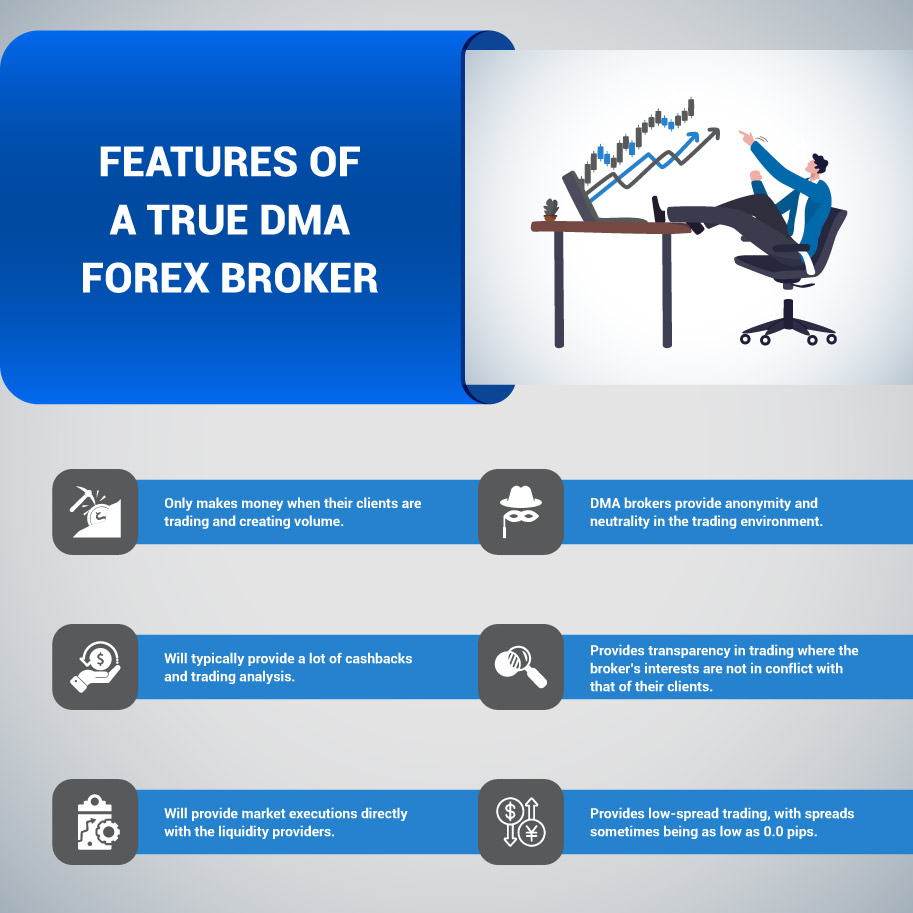 A true DMA forex broker:
A) Only makes money when their clients are trading and creating volume. Therefore, the only motivation for them to make money is to help you trade efficiently. They therefore do not have interests that are in competition with that of the trader.
B) Will typically provide a lot of cashbacks and trading analysis. Cashbacks are a rebate on higher trade volumes.
C) Will provide market executions directly with the liquidity providers, thus are able to deliver fulfillment without the trader being asked to re-quote trades.
D) DMA brokers provide anonymity and neutrality in the trading environment, which guarantees that everyone has equal access to the same level II quote information and that there is no "last look" condition.
E) Provides transparency in trading where the broker's interests are not in conflict with that of their clients.
F) Provides low-spread trading, with spreads sometimes being as low as 0.0 pips.
DMA Forex Broker Advantages
What advantages do DMA forex brokers bring to the table for traders who love to trade currencies?
A) DMA forex broker platforms are a scalper's paradise. A typical scalper may take up to 50 trades in a day. As DMA forex brokers charge commissions for opening and closing positions, scalping actually leads to increased broker revenue from such traders. This is why DMA forex brokers actually encourage scalping, which is the complete opposite of what is obtainable with market makers (who hate scalpers with a passion).
B) Due to the fact that the DMA forex broker is not benefiting in any way from internal price mark-ups, whatever prices that the traders see on their platforms is what they will get in terms of execution, so there are no re-quotes.
C) There is no slippage with DMA forex brokers for the same reasons as (b) above.
D) It is in the interest of DMA forex brokers for their traders to remain profitable so they can keep trading and generating revenue in commissions. Therefore, DMA forex brokers go the extra mile to provide several tools that will enable better trading experiences. These tools include colocation facilities to reduce latency and achieve faster executions, news feeds from premium market news providers, and other trade related software that can enhance outcomes.
E) The DMA forex brokers in our list are regulated, which reinforces the transparency in trading conditions that are already inherent in their operations.
DMA Forex Broker Disadvantages
Trading with DMA forex brokers may have some disadvantages, which can usually be overcome:
A) Some DMA forex brokers may penalize their clients for account inactivity. Remember, DMA forex brokers only make money when the trader is active, so they may impose fees on traders that do not trade often.
B) DMA forex brokers will charge commissions for opening and closing positions. So there is some pressure on the trader to deliver profits on trades.
You can partake of forex trading on DMA forex broker platforms by selecting from our list of DMA forex brokers. Each broker comes with varying degrees of leverage and have different contract specifications. Feel free to look at what each of these DMA forex brokers have to offer and start trading forex with the interbank market today.