Below you will find a list of Binary Options Brokers that offer various binary contracts for trading. Although the term may appear to be very confusing, it's not that complicated. A binary option is a sort of a contract with a value, expiration date and determined conditions of winning. By purchasing it, you technically make a bet. Most common wager is to predict whether the asset's price will go up or down from a certain level and stay there until the option expires. Most tradable assets are currencies, indices and some commodities. There used to be much more brokers offering binary options, but many regulatory authorities placed restrictions and prohibited that kind of trading.
Did you know?
Binary options for the retail market were instituted in 2008 when the first description of this product was approved by the US Securities and Exchange Commission. The initial description of what is now known as US-style binary options was based on assets that were listed on exchanges, with traders pitting their bets against each other.
A short while later, a different model of binary options was developed and introduced to the world by brokers based in Europe and Israel. This model (European-style binary options) was essentially based on off-exchange trading of CFDs. However, what followed was years of unwholesome practices and remarkable scandals, which led to the shutdown of the industry in Israel by regulators there, and in the UK and EU region by the European Securities and Markets Authority (ESMA).
The industry is presently undergoing a self-cleansing, and we now have offshore brokers who are showing better commitment at playing by the rules and ensuring their clients get a good deal for their money.
What led to the near collapse of the binary options market?
The answer lies in only one direction: shady brokers and their agents all over the globe. But perhaps some portion of the blame can go to regulators, who were generally very slow in rising up to the occasion to protect the clients, whose money constituted the entire financial backbone of the market.
Brokers are meant to create markets for their clients to trade and are supposed to ensure transparency and safety of trading venues, while maintaining some level of neutrality. However, what occurred between 2011 and 2017 was a situation where a lacuna in regulation led to the emergence of fraudulent entities. These fly-by-night operators set up "brokerages" that were essentially criminal enterprises, specifically designed to rob traders of their hard earned cash. These scam brokers devised several means of ripping off their unsuspecting customers:
A) A common method was the use of call center agents, who unscrupulously obtained contacts of prospective traders and literally harassed them into making ever-increasing deposits, with promises of helping them reap bountiful returns on their investments.
B) There was also the use of volume requirements for incentive bonuses, which were tied to the ability to make withdrawals. Traders soon found out that achieving these volume requirements was practically impossible, thus ending any opportunity at retrieving capital or profits made.
C) In some brazen instances, agents in the brokerage house would access trader accounts from the back end, and execute trades that had been deliberately configured to lose on those accounts. There is at least one case known to the writer where $5,000 was stolen in this manner. Prosecutors and law enforcement agents presently have warrants on the identified personalities behind that brokerage.
Perhaps the case that brought binary options into very negative light, prompting calls for an EU-wide ban, was the unfortunate case of a Canadian investor who lost his life savings after patronizing a shady brokerage entity. The eventual suicide of this investor was the breaking point; EU and UK regulators took action and shut down binary options in Europe and the UK.
Lessons learnt
It is not only traders that suffered from the criminal activities of the scam brokers. Legitimate brokers such as Binary.com paid a very heavy price, as they lost a significant amount of the market share in an industry where they could be said to be the pioneers. Binary.com (which is listed above as one of the best binary options brokers of repute today) and several other legitimate companies around the world were forced to make major changes to their operational models, in an attempt to improve transparency and to bring back badly eroded investor confidence into the market.
Some of the changes which have been introduced include:
A) Restriction on issuance of bonuses, a lot of which is now provided as cashback for volume trading.
B) Robust trader education, in order to ensure that only informed traders use the binary options platforms.
C) Provision of demo accounts, which many of the defunct brokers never provided for their clients. No longer will traders be deprived of the opportunity to test their strategies and learn the process using virtual accounts.
D) Enhancement of the analytical tools on the platforms, to replace the archaic methods of the old order which provided traders with only line charts and zero tools for analysis!
E) Elimination of confusing binary options bet types and sticking to the classical binary options.
F) Getting their entities regulated in the countries of operation, to enhance user protection and boost broker accountability to enforcing regulatory institutions.
G) Incorporating new asset classes (e.g. cryptocurrencies) to the mix.
Criteria used in broker selection
In selecting the binary options brokers displayed in our list above, the following parameters were used in the process of consideration and selection to ensure that only the most genuine brokers are available for you. We have thus made the process simple, knowing that it is quite a challenge for traders to be able to select these brokers on their own.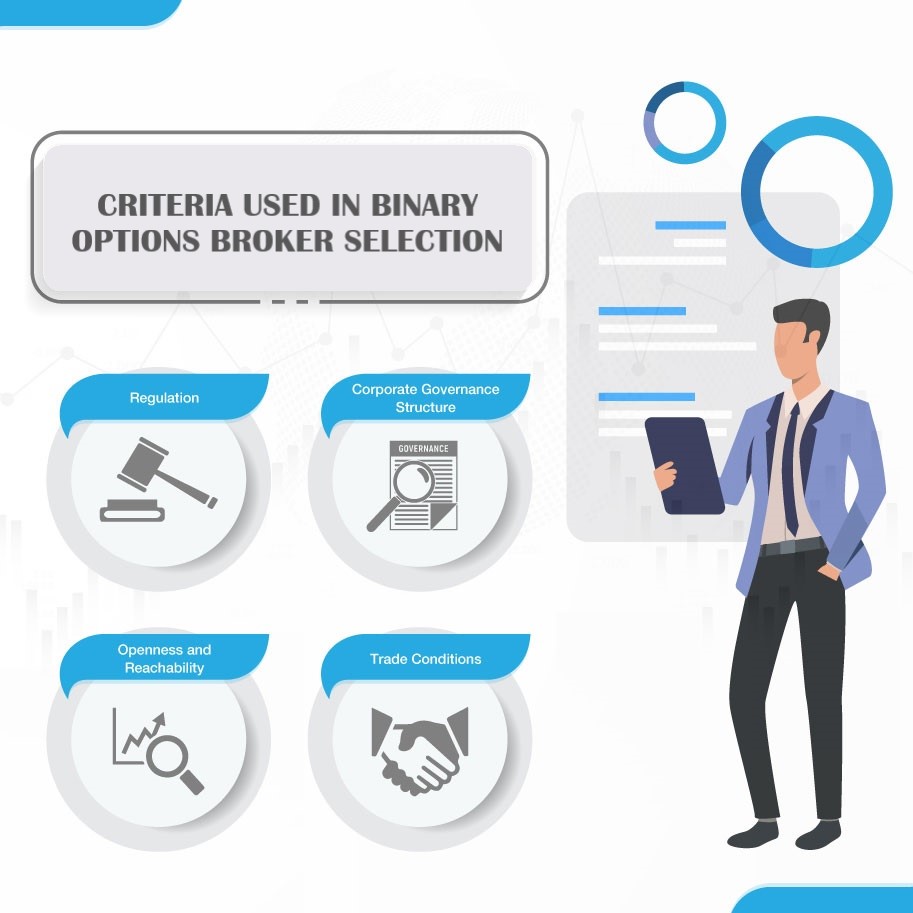 1) Regulation
The issue of regulation cannot be emphasized enough. The only way traders are going to be protected is by regulating the binary options providers they operate with. Anything short of this will be inviting the old demons back. Regulation also provides for greater accountability and ensures that investor confidence is never lacking in the market.
2) Corporate Governance Structure
A look was taken at the structure with which the listed brokerages operate. Many of them have been around for more than 9 years, and have invested in improving their platforms and trade offerings. These brokerages also have properly defined corporate hierarchy and a face to which the company can be tied to. For instance, the CEO of Binary.com is well known. Olymptrade has a very active presence in an online forum in Africa. Brokerages like Go Markets have officials who are also well known. There are no faceless companies in our list.
3) Openness and Reachability
The brokers listed here all have verifiable contact addresses and can be reached by phone, email and social media channels. Compare this with the old order where some brokerage operations were essentially husband/wife run establishments, operating out of a kitchen (yes, a "binary options broker" was found to be just that several years ago).
4) Trade Conditions
The trade conditions for each broker were also reviewed. For instance, we looked at factors such as stability of the platform, uptimes and downtimes, accessibility of customer support, latency of price and data feeds as well as how the brokers handled counterparty risks. Brokers that were found wanting were eliminated from the list.