Who are ASIC-Regulated Brokers?
ASIC-regulated Australian forex brokers are brokers that operate in the forex market from an Australian base. These brokers are licensed and authorized as financial service providers (FSPs) by the Australian Securities and Investment Commission (ASIC). ASIC is the regulator of the FX market in Australia, and all forex brokers operating in Australia must be licensed as financial service providers, with an Australian Financial Services License (AFSL) number. The regulation of ASIC-regulated forex brokers is covered by the Corporate Plan of 2018 and upcoming years, which details what the Australian regulator expects its licensed entities to comply with.
The relevant components of this definition are as follows:
A) ASIC regulates the Australian financial services sector, as well as companies that operate in this sector (including FX brokers).
B) ASIC-regulated FX brokers are licensed as financial service providers and must have an AFSL number.
C) ASIC-regulated forex brokers are required to have an operational base in Australia, even if the parent companies are based abroad.
ASIC's procedures for licensing brokers are quite strict, and prior to 2019, the regulator had not issued any new brokerage licenses in 2 years. That goes to show that companies which have the Australian Financial Services License (AFSL) have met the strict requirements set out for them by the Australian regulator and can be considered safe for retail forex trading.
Profile of ASIC-Regulated Australian Brokers
According to data recently released by the regulator, ASIC-regulated Australian forex brokers have the following profile:
A) Client base grew in three years from 450,000 traders to more than 1 million traders.
B) Retail participation among the trading operations of ASIC-regulated brokers grew from 97% to 99%.
C) Clients' funds held in custody grew experienced a 45% increase.
D) Annual transactions grew from 236 million in 2017 to 675million just before the COVID-19 pandemic hit.
E) Gross annual trading turnover doubled from 2017 to 2019, topping $22 trillion.
The statistics all point to one thing: trading FX and CFDs with ASIC-regulated Australian brokers is getting more popular by the day, thanks to the excellent trading conditions and top-notch regulation provided in the Australian environment. These brokers attract clients from all over the world, with clients from Asia dominating the space with nearly a fifth of the market share.
What is ASIC's Mandate for its Regulated Brokers?
The mandate for ASIC-regulated Australian brokers centers predominantly on risk management for firms and their clients as well as consumer protection. ASIC urged its regulated brokers to deliver quality, independent trader education to arm their clients with sufficient information to manage risk, but has also gone further to deliver its product intervention to protect retail clients further.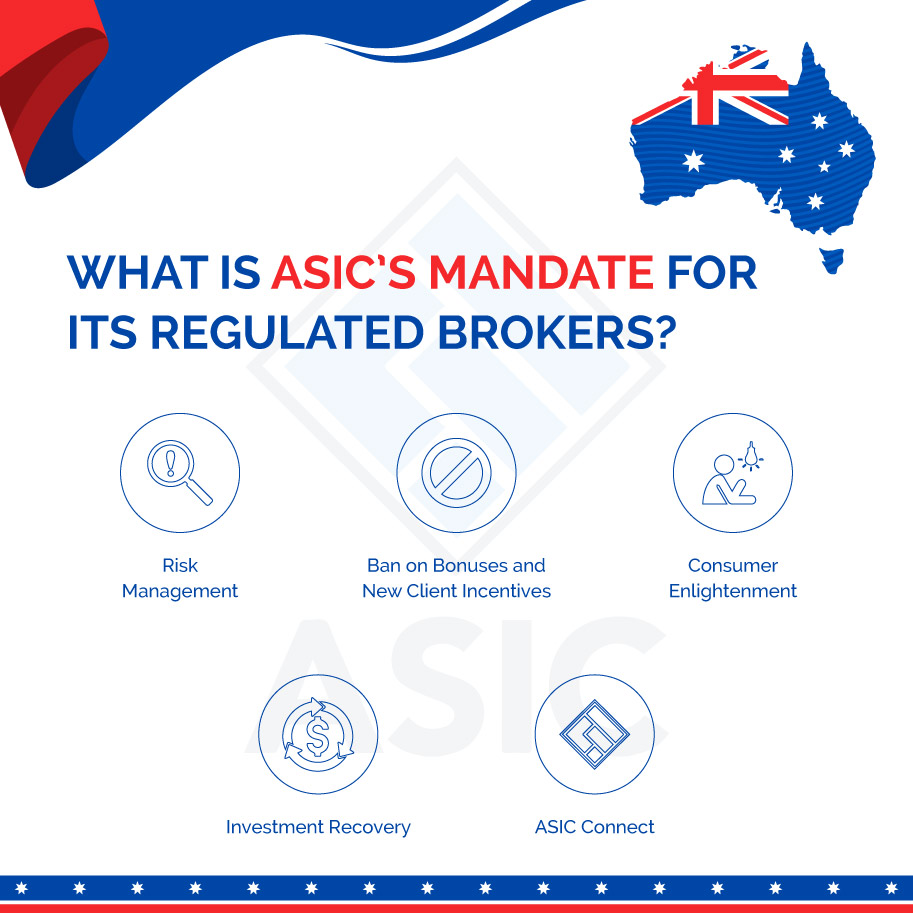 A) Risk Management
Following the market upheaval that occurred in January 2015 when the Swiss National Bank ended the Swiss peg to the Euro, ASIC immediately swung into action and asked all its regulated brokers to revise all risk management protocols that had been put in place for their firms and their clients. This call was made in response to the collapse of two brokerages as well as the calamitous losses suffered by many brokers across the world in the wake of the SNB's decision. It was also rooted in the experience of some ASIC-regulated brokers that survived the market holocaust, having independently instituted their own in-house risk management mechanisms. These mechanisms were adopted wholesale and it was felt that ASIC-regulated brokerages had sufficient tools to manage such market-moving events should they occur in the future.
Some of these risk management protocols included the following:
Minimum operational capital was raised to $1million.
Tier 1 banks were to be used for the segregation of clients' funds.
All ASIC-regulated brokers were mandated to maintain a physical location in Australia, even if the parent brand was located abroad.
The bulk of the clientele of ASIC regulated brokers comes from the Asian-Pacific region, where regulation of forex entities is a bit sketchy. ASIC desires to protect the clients of its regulated brokers from marketing campaigns put out by offshore brokers with weak or non-existent regulation.
However, the onset of the COVID-19 pandemic and the extreme market volatility that followed this event has forced ASIC to strengthen its regulatory protocols by delivering its product intervention, which has mandated brokers to cap leverage, increase the margin stop out level and implement other measures to protect the retail client base.
B) Ban on Bonuses and New Client Incentives
ASIC has traditionally frowned at the use of bonuses and incentives by brokers to as a marketing tool for attracting new clients. When bonuses were first introduced on European forex platforms, they were first used as a way of attracting new traders to the various forex platforms. But as is usually the case with products that are introduced without oversight, the end game soon changed from using bonuses as a marketing tool, to becoming a tool for incentivizing volume trading at the expense of the traders' profitability. This came with a lot of abuse and ASIC was one of the first regulators to outlaw them completely. But the practice has continued, with ASIC releasing data to show that 225,000 traders received incentives to own and operate accounts.
ASIC has renewed its resolve to ensure that incentivized marketing for new accounts is ended. So if you are a trader on an ASIC-regulated platform, you are not likely to see any bonuses being offered either for account opening or for volume trading. This would allow you the freedom to trade at your convenience and only trade when you are sure of the market opportunity.
C) Consumer Enlightenment
ASIC also strives to ensure that consumers of forex products are enlightened and can understand to some extent, the products that they are trading. This enlightenment drive is being achieved via an online portal known as MONEYSMART. What ASIC strives to achieve with MONEYSMART platform is to deliver trader education from an independent standpoint, thereby reducing any element of bias or downplay of the risk element to trading as is sometimes the case when such education is provided by brokers.
The MONEYSMART portal has been expanded in recent years. The site now details how forex-related scams and other investment frauds are perpetrated, early warning signs of fraudulent brokerages or trading-related opportunities, and unlicensed brokers targeting the local trading community.
D) Investment Recovery
The Australian Financial Complaints Authority (AFCA) is the ASIC-affiliated financial trading industry ombudsman where aggrieved consumers can and opt for free, fair and independent dispute resolution of complaints related to their financial trading brokers. AFCA maintains a list of complaints that they can handle, and those which are outside of their areas of jurisdiction.
Here is the list of complaints that AFCA can handle where it concerns ASIC-regulated Australian forex brokers.
Advice to trade an asset where this advice went against the client's interests.
Broker fees or commissions that were miscalculated, incorrectly charged and applied. Charges that are deemed by the consumer as being too high do not necessarily get merited attention from AFCA.
Misleading of insufficient information that downplays the risk of an investment product.
Inappropriate margin call notices or investment liquidation.
Instructions to buy or sell an asset that were provided by a client to the broker, but which were delayed or not carried out.
Breach of consumer privacy and confidentiality, which could occur if a worker within a brokerage leaks clients' details to a third party for gain.
Unauthorized transactions.
All traders who work with ASIC-regulated clients have the opportunity to get independent resolution of their complaints with AFCA.
E) ASIC Connect
ASIC Connect is the online professional register that details the full list of licensed AFS companies as well as individuals working in the financial services industry as licensed professionals. Consumers get to see if any action has been taken against any of these companies or individuals in the past.
What Can Traders Expect from an ASIC-Regulated Broker?
At the time the original article was written, ASIC was one of the regulators which had resisted the changes that regulators in the EU and UK had made to trading conditions on FX and CFD assets. However, this era is now gone as ASIC has finally towed the line of these regulators.
In 2020, ASIC responded to the increased volatility in the financial markets due to the COVID-10 pandemic by announcing new restrictions on the retail trading of CFDs, which took effect on March 29, 2021. These changes, which ASIC announced in a "product intervention order" were as follows:
1) Leverage offered by ASIC-regulated brokers was capped at 1:30, instead of the previous leverage maximum of 1:500. Assets with greater volatility will be subjected to more stringent leverage caps. Therefore, the leverage cap structure for all ASIC-regulated Australian forex brokers is now as follows:
20:1 for all currency pairs, gold, and major indices;
10:1 for commodities (excluding gold) and non-major equity indices;
5:1 for individual equities;
2:1 for cryptocurrencies.
Notice that unlike in the EU and UK where the leverage cap is different for major currencies and minor/exotic currencies, the 1:20 leverage cap prescribed by ASIC for currency trading covers ALL currency pairs.
2) All ASIC-regulated brokers in Australia are now to provide their clients with negative balance protection. In essence, traders can no longer lose more than their account balance if there is excessive slippage that causes stops not to be honoured. This move according to ASIC, is to prevent a repeat of the aftermath of the collapse of the Swiss Franc in January 2015 after it was de-pegged from the Euro by the Swiss National Bank.
3) Binary options are to be banned completely, and ASIC-regulated brokers have been asked to cease offering this product.
4) ASIC-regulated Australian brokers will not be mandated to provide issuer-specific risk warnings and risk disclaimers about the percentage of traders who lose money trading FX and CFDs. This represents a critical and dramatic deviation from similar requirements in the UK and the European Union.
Institutional clients of these brokerage firms, also known as wholesale clients, continue to be exempt from these new restrictions.
As a result of these new restrictions, ASIC-regulated brokers started to inform their clients of the changes, and those with offshore locations started to offer their non-resident account holders the option of migration to these offshore locations which are not bound by the new restrictions.
ASIC has also gone ahead to prescribe penalties of up to 5 years in prison for individual defaulters within the brokerages, and fines of up to AUS$555 million for brokers that do not comply with the new regulations. The ASIC Commissioner, Cathie Armour, has also promised to crack down on attempts by brokers to evade the new restrictions by falsely classifying retail trading clients as wholesale clients.
ASIC continues to maintain bilateral communication with foreign regulators to ensure that scam brokerages do not use the Australian market as their safe haven. In this regard, ASIC has entered into an agreement with the Japanese Financial Services Authority (JFSA) to prevent bilateral marketing of forex products between companies located in both countries.
What can traders expect when trading with ASIC-regulated brokers?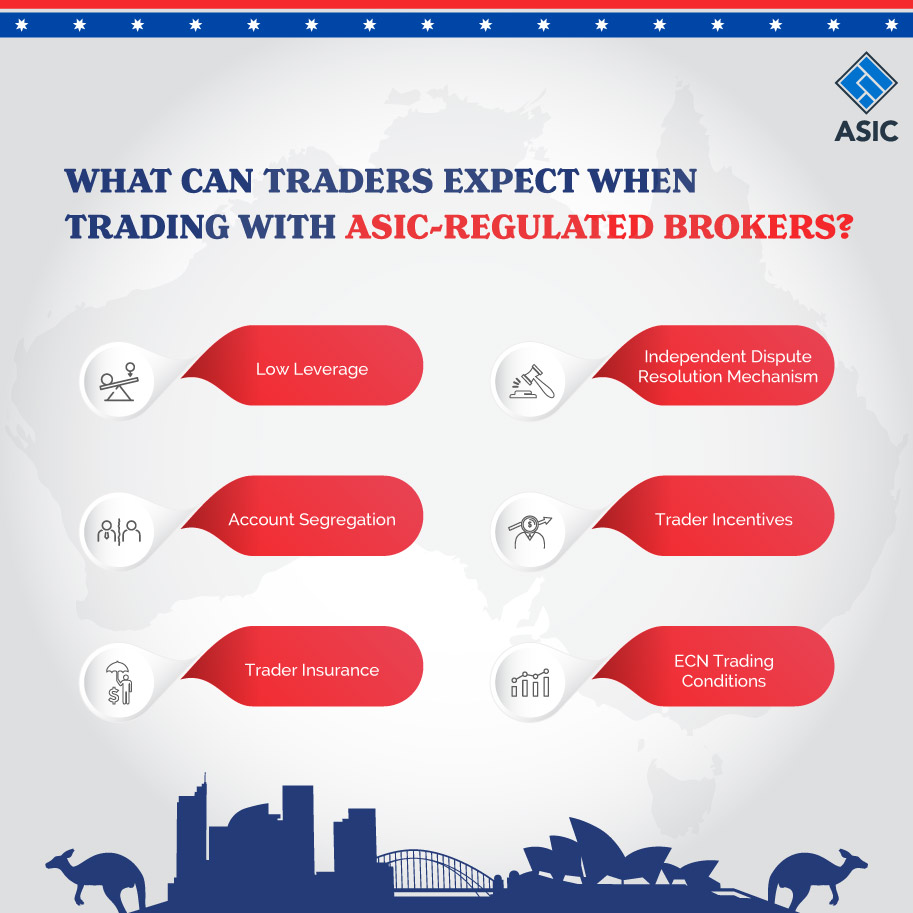 A) Low Leverage
ASIC-regulated brokers will now offer a maximum leverage cap of 1:20. Traders with brokerages that have offshore locations can apply for redirection to these offshore locations, but this could strip them of the protections that ASIC and AFCA offer.
B) Independent Dispute Resolution Mechanism
Aggrieved consumers of financial products from ASIC-regulated Australian forex brokers now have access to independent dispute resolution from the Australian Financial Complaints Authority (AFCA). AFCA is directly supervised by ASIC.
C) Account Segregation
Traders' funds will continue to enjoy segregation with the Tier-1 banks in Australia.
D) Trader Incentives
No bonuses will be provided. ASIC has been lax in enforcing this in the past, but this looks set to change.
E) Trader Insurance
The National Guarantee Fund will continue to provide clients of ASIC-regulated Australian forex brokers with trader insurance. The fund can provide compensation to investors who have been proven to have been shortchanged by their brokers, after investigation by ASIC.
F) ECN Trading Conditions
Many ASIC-regulated brokers now offer ECN trading conditions, complete with the chance to trade with a FIX API. Using a FIX API removes forex trading from the retail forex platforms, and instead connects the trader directly to a liquidity provider. This has the advantages of providing faster speeds, direct access to institutional liquidity and ensuring confidentiality of your trading strategies.