Did you know?
Over the last decades, the forex market in the US has emerged as one of the most regulated markets anywhere in the world. Rules that were introduced and backed up by Federal laws have made it very difficult for brokers and traders alike to operate in the US forex market. For many years, only three brokers operated in the US forex market: Oanda, GAIN Capital LLC (Forex.com) and TD Ameritrade. Others were either put out of business or were forced to close down as a result of the strangulating environment created by the regulators, backed up by the Dodd-Frank Wall Street Reform and Consumer Protection Act of 2010.
What Changed?
After the global financial crisis of 2008 which had its origins in the US subprime mortgage market, there were general calls for better regulation of the various markets operating in the United States. The Dodd-Frank Act was a direct consequence of this agitation. This law strengthened the Commodities and Futures Trading Commission, enabling it to oversee not just the conventional financial markets, but also the swaps market which was valued in trillions of dollars.
Changes to the way business was conducted in the US financial markets were sweeping and aggressive. Some of the changes which were directly targeted at the retail segment of the market were as follows:
A) Introduction of leverage caps in forex and options, pegging leverage at 1:50 for forex majors, and 1:20 for forex minors, and forex options trading.
B) Elimination of hedging ability via the introduction of the First In, First Out (FIFO) Rule. Thus rule states that a position on an asset must first be closed before another can be opened on the same asset. The FIFO rule effectively ended the hedging style of traders placing opposing positions on the same asset.
C) Stratification of traders in the FX market was institutionalized, as these rules were targeted at the so-called "unsophisticated' investors, defined as traders with assets that are less than $10million, as well as small businesses. Professional and commercial traders (investment banks) were largely exempted from these changes.
According to the CFTC, these rules were meant to protect the retail clients from overexposing their money to the market and from taking excessive risk. But to what extent these rules have actually protected the retail consumers of forex products in the US is anyone's wildest guess.
What the regulators of the US financial markets will not readily reveal, is that many traders in the US simply exited the US market and migrated their accounts to brokerage platforms in other countries. Forex brokers located in the US have had whatever market share they had badly eroded, and brokers without the kind of purposeful structure that the former US brokers suddenly emerged as less desirable but ready alternatives to traders who were unwilling to trade under the new conditions in the US.
In other words, the Dodd-Frank Act actually stifled the forex brokerage business in America and the statistics do not lie. During the good times, more than 40 retail FX brokers were serving both US and international clients. Ever since Dodd-Frank became law, that number dwindled to the three brokers mentioned above, and the international clientele base simply moved away from the US and on to brokerages in the UK, Europe, Australia and the Caribbean. A lot of the damage in the US forex brokerage business environment came as a result of the $20million bond which was imposed as a requirement for starting a forex brokerage business in the US. Tax reporting requirements have also scared off many brokerages from accepting US clients. Clearly, no foreign forex company wants to get the same kind of attention that Huawei got from the US government in 2019, or what TikTok got in 2020.
What Are the Current Options for US Forex Traders?
In 2019, some brokers made moves to re-enter the US market. Unfortunately, the COVID-19 pandemic slowed down the process dramatically. Still, some new brokers managed to enter the US forex market in recent years, so traders now have more choice than before.
So what is the current state of the US market as it concerns US Forex traders?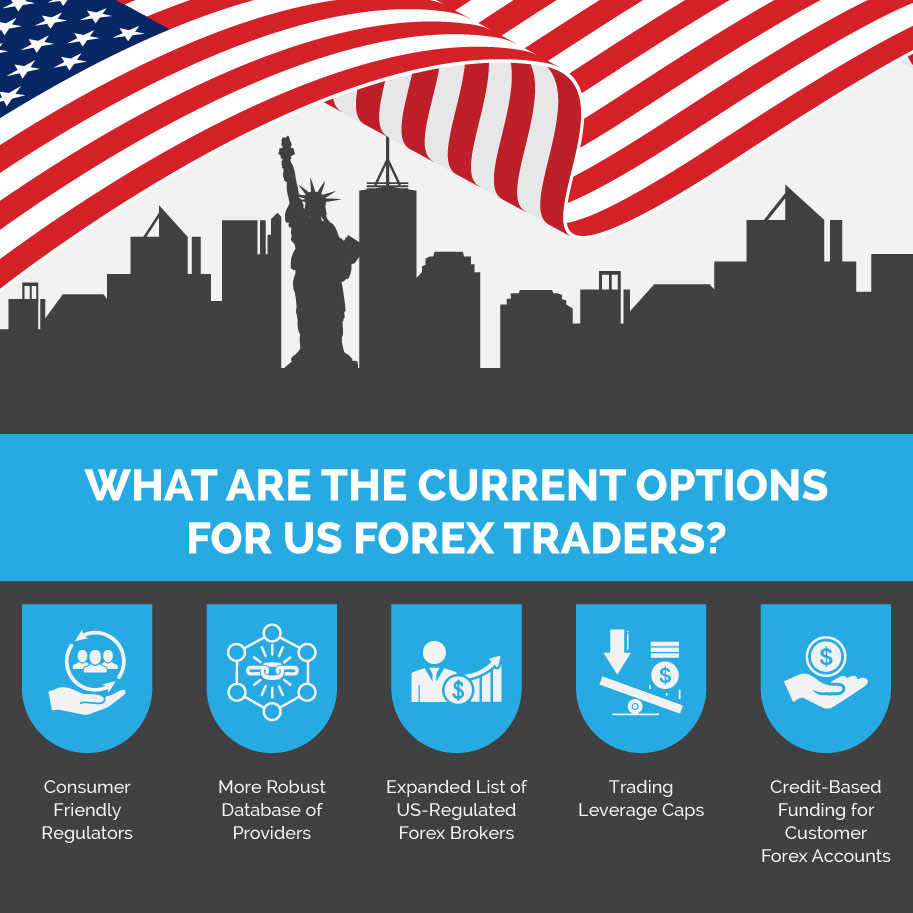 1) Consumer-Friendly Regulators
Regulators in the US have made a series of changes designed to improve trading outcomes for US forex traders. For instance, the Commodities and Futures Trading Commission (CFTC) has made its weekly CFTC Positioning Report (also known as the Commitment of Traders Report, or COT) more readily available. This report shows what the major players in the commodities and currency markets are doing. Using this information, summaries of which are found on some MT4 platforms of US forex brokers, traders can consider their positions against the backdrop of the institutional speculators are trading. This provides for more informed trade decisions.
Additionally, the CFTC is now more reachable as a number of channels are now open so the public can make complaints or submit inquiries and observations.
2) More Robust Database of Providers
Everyone working in the industry must be registered with the CFTC and NFA. The NFA has taken it a step further by requiring biometric registration of those who provide services to traders, be it brokerage services or fund management. This biometric information can be shared with the Federal Bureau of Investigation (FBI), and this has been a strong deterrence against wrongdoing by brokers. When last did you hear of US forex brokers swindling customers of their funds?
The CFTC database of providers is very vast. All floor traders/brokers, introducing brokers, swap dealers, retail forex dealers, commodities pool operators (CPOs) and commodities trading advisors (CTAs) who are licensed to provide services to US forex traders are all on this database.
If you are approached by anyone claiming to be any of these, you can easily contact the CFTC for near-instant verification. Even those who are not listed on the CFTC database by reason of exemption must appear on the NFA database, and the reason for the CFTC exemption provided.
3) Expanded List of US-Regulated Forex Brokers
There used to be a time when more than 70 brokers operated in the US forex market. The Dodd-Frank Act thinned them out to just 3, and it remained this way for a nearly a decade. At the present day, there are now 8 regulated forex brokers in the US. Oanda, Forex.com (GAIN Capital) and TD Ameritrade retained their positions, and are now joined by ATC Brokers, IG US, Interactive Brokers, Ally Invest and ThinkorSwim (now owned by TD Ameritrade).
4) Leverage Caps
The 2018 ESMA Rules in Europe forced all local brokers to set a 1:30 leverage limit for all major FX currency pairs. In the US, this cap remains at the 1:50 level introduced in 2010. US forex traders will continue to enjoy what now seems to be the most liberal leverage caps in the Tier 1 regulatory jurisdictions.
5) Credit-Based Funding for Customer Forex Accounts
Bank drafts and direct debits from a bank-linked ATM card are now the recognized means of account funding for US forex traders. The use of credit cards is now prohibited.
These are some of the changes that US forex traders have faced in 2020. 2020 also marked the year of the COVID-19 global pandemic that has completely changed the face of the global economy. However, while many other economic sectors have been badly hit, forex trading and other forms of financial market activity have thrived. In fact, the massive job losses and furloughs across the world that left millions without a source of income, drove the same people to the financial markets. Many brokerages have witnessed a surge in new trading account registrations as well as inquiries about trading. COVID-19 has changed the face of financial trading and it is likely that a number of changes as to how forex is traded in the US are coming.
What Does the Future Hold for US Forex Traders?
So what possible changes can US forex traders hope to see in 2021-2022 or in the years to come?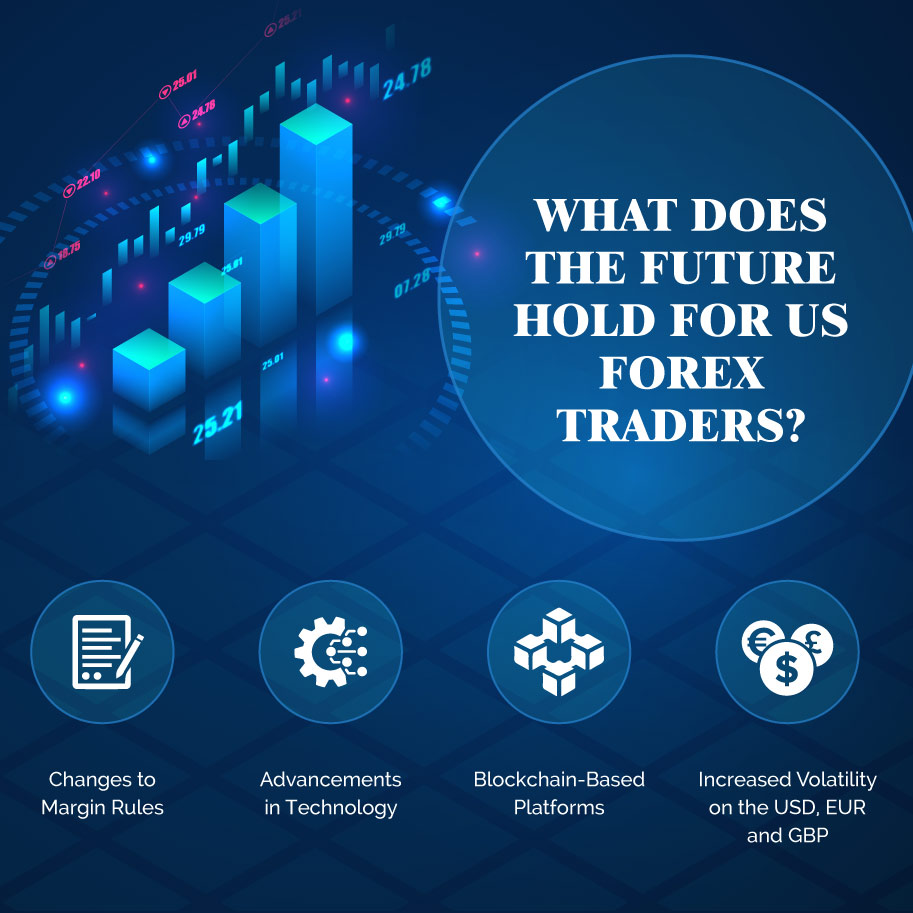 1) Changes to Margin Rules
It is likely that forex traders in the US may face changes to margin rules on their accounts. US forex brokers are expected to have rolled out the Phase 5 and Phase 6 rules on uncleared margin, known as UMR 5 and UMR 6. UMR stands for Uncleared Margin Rules. These rules have to do with how buy side participants in the forex market handle initial margin and variation margin among all counterparties in the market. Compliance with the UMR 5 and 6 means that there is a consolidated margin threshold of 50 million units of either the EUR or the USD that must be adhered to, among other requirements.
These rules were originally conceived in the aftermath of the 2008-2009 global financial crisis to enable firms handle risk better, and were meant to be implemented in phases. UMR 1 commenced in 2017. Full compliance with Phase 5 UMR rules was to kick in by September 2020, but has been moved by a year to September 2021. While the full details of these rules would be out of the scope of this piece, suffice it to say that these new rules would make it harder for new players to enter into the retail FX brokerage space in the US. It would also stretch the resources of existing brokerages in terms of compliance with these rules. Ultimately, the entry point for opening a forex trading account may climb dramatically, putting it out of the reach of many. If you have been thinking of opening a US forex trading account, this may be the best time to do it.
2) Advancements in Technology
Algo adoption is expected to grow, whole artificial intelligence (AI) will start to feature more prominently in the development of market trading software. 2021 may be the year when US forex traders who want to maintain an edge in their trading may have to start using tools and software that can perform smarter analysis and make more rational trading decisions.
3) Blockchain-Based Platforms
2021 may be the year when blockchain-based trading platforms may start to hit the US forex market. Some brokerages in Japan and Singapore have started to experiment with these platform types. Perhaps 2021 may be the year that we could see these used more widely in the US. Will this signal the beginning of the end for the MT4, or will Metaquotes respond accordingly?
4) Increased Volatility on the US Dollar, Euro and British Pound
Coronavirus vaccines will be out in 2021, but the availability of these vaccines seem to be geographically defined. Countries like the US and UK are buying up stocks in advance, so it is likely that these vaccines will not go round the world. Remember the dark days of the HIV epidemic when there was disproportionate access until PEPFAR and the Global Fund kicked in? This is probably what will happen unless something is done about the situation. COVID-19 will continue to dominate headlines, along with attempts to rescue the global economy. It is looking like there will be a change of guard at the White House. 2021 will see more volatility on the US Dollar, Euro and British Pound.
It is prudent to say that there may be other occurrences in 2021 which have not been captured here, but which cannot be ruled out. Nobody can predict the future with 100% certainty.
Closing Note
One of the best things that consumers of any product can enjoy is the power to choose, and to be able to make that choice from a wide range of service providers. This is what the Dodd-Frank law has taken away from US forex traders… but things have changed. Aside from a few forex brokerages operating in the US, there are a number of offshore forex brokers expressing willingness to take US traders on their platforms.
There are a number of advantages and also drawbacks to this arrangement. In terms of benefits, this is what US forex traders will enjoy when they use the offshore brokers presented in the list above.
A) The ability to hedge trades is a risk management tool. The FIFO rule basically prevents this from happening. Realizing this great folly in the US forex brokerage setup, the offshore brokers in the list provide above have created a system which allows traders to hedge, even if it means placing opposing positions on the same asset.
B) The CFTC has argued that the leverage caps protect retail traders by stopping them from overexposing their capital and accounts to the market. The leverage caps imposed a high minimum capital requirement on forex accounts opened in the US. This requirement only served to lock out a large segment of the trading public. With the forex brokers for US traders introduced here, you get lower capital requirements you can actually meet. You also trade with a wider spectrum of leverage, which allows you to trade under non-restrictive leverage conditions.
C) Your greatest asset as a consumer (the power to choose) is restored. You have a choice of not just a few brokers, but many ones. If a broker does not match your requirements, move to the next one on the list.
The brokers featured in the list above have been carefully selected to offer you a forex brokerage service that rivals what you can get anywhere in the world, and under non-restrictive conditions. They are great for beginners who can make a transition from a demo account to a lightly funded live account, just to ensure they can understand what live trading is all about before they get more heavily committed. ECN style accounts are also available for those who prefer to trade directly with the FX interbank market. There is a lot of choice for you as you go through this list of brokers, one after the other.