What's this "top forex brokers" section about?
This section of the site contains the 10 top-rated forex brokers that have shown themselves to be the most credible, user-friendly, flexible, and multi-functional. The last years has shown itself to be a radically evolving year, with some surprise occurrences in the macroeconomic climate that have shaped the price behavior of certain assets. These changes require traders to get the best from their brokers regarding adaptations that will enhance the trading experience.
What do traders want from their forex brokers?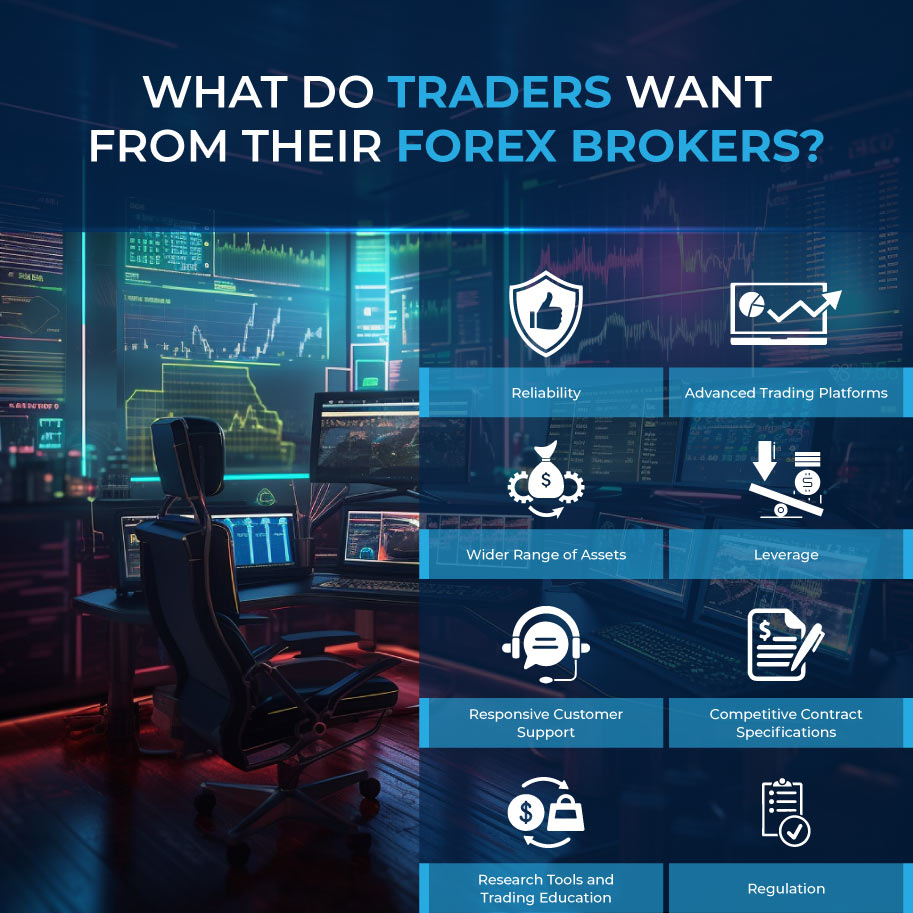 1. Reliability
Trust remains everything as far as the forex and CFD markets are concerned. In light of some high-profile top rated brokerage collapses in 2022, the issue of reliability and trustworthiness among brokers has become a topical issue. These days, traders want top-rated forex brokers to go a lot further in providing assurances of how their money is domiciled and, if possible, segregated. Traders are starting to ask: if I put my money in a brokerage, can I trust that the brokerage owners are not siphoning these funds and using them to finance their side businesses? As a trader, you want your forex broker to be top-rated and responsive enough to answer these questions.
2. Advanced Trading Platforms
Today's markets require deep analysis, and traders demand that their platforms have more tools to accomplish this. With joy, many traders received news of the lifting of Apple's ban on the Metatrader platforms. This means that the MT4 and the more advanced MT5 platforms are now available to users of iPhone and iPad devices. Even the cTrader has been modified and presents traders with a great alternative. An ideal trading platform should be able to give the trader the following:
News feed
Advanced tools for charting
Enhanced order management
Strategy tester
Coding environment for EA development and modification
Access to a virtual private server
3. Wider Range of Assets
The global macroeconomic environment of today is such that the most volatile price activity in the forex market is no longer restricted to the traditional hot zones. With the entrance of the Chinese Yuan into the list of top 5 most traded currencies in forex, the dynamics of the market have changed. The latest survey by the Bank of International Settlements (BIS) indicates that the daily forex turnover now stands at $7.5 trillion, an all-time high. One of the reasons behind this volume increase over the years is that more assets are attracting attention. So simply sticking to the traditional currency pairs as a means of profiting from the market will deny you a lot of opportunity elsewhere.
Your broker, especially top-rated forex broker should be offering you various combinations to trade with. For instance, how about trading the Brazilian Real against the Chinese Yuan? Most brokers may not offer the BRL/CNH pair, but the top-rated broker should be able to offer the USD/BRL pair and the USD/CNH pair to execute such a trade. Your broker should be able to offer you FX crosses that can enable you to make your own markets. These crosses would enable you to fashion out trades on currency pairs loaded with opportunity but have yet to be found on most broker platforms in the forex market.
4. Leverage
There are arguments for and against the provision of high leverage by top-rated brokers. The statistics pulled from new trader registrations with brokers across various jurisdictions show that traders continue to trend toward getting competitive leverage to trade with.
When ESMA implemented leverage caps on European brokers including most credible and top-rated, traders migrated to high-leverage jurisdictions en masse. It clearly shows that traders know what they want and want competitive leverage that does not place a high margin demand on them. Even though it potentially increases risk, traders prefer high-leverage forex brokers to work around with smaller capital.
5. Responsive Customer Support
Traders prefer to work with top-rated forex brokers that have responsive and empathetic customer support. Traders want instant responses and prompt technical support to enable them to resolve any issues they may have. The days of 1-day email response times are fast disappearing. In their place, live chat and instant response channels via social media are taking over. Some top-rated brokers will even get a dedicated account handler to call the trader on the phone to take care of requests.
6. Competitive Contract Specifications
Traders are always looking for favorable trading conditions and appealing contract specifications. Any broker wishing to get the business of traders in 2023 and beyond should be willing to offer tight spreads and the lowest commissions and swap fees in the market. Negative balance protection and virtually non-existent slippage are also desirable features. The top-rated forex brokers we are featuring above offer some of the market's best trading conditions and contract specifications.
For instance, gold is one of the best-performing assets of 2023 in terms of price volatility and potential returns to investors. The top-rated forex brokers in our list provide affordable trade sizes on the gold assets to ensure that every category of trader can benefit from the price moves that can potentially occur.
7. Research Tools and Trading Education
Brokers are starting to see that it is immensely beneficial for their clients to know about the trading process. This is why some top-rated forex brokers invest significant resources into developing a solid trading education suite where traders can go from having zero knowledge to practical knowledge about trading. There is no gain for brokers to have traders with no knowledge blowing their accounts and never coming back. Traders with a high level of trading education can do a lot of stuff that will keep them in the game for a long time.
A comprehensive trading education suite is necessary for any top-rated forex broker wishing to succeed in 2023 and beyond because traders desire these resources. For instance, a trader who has learned how to keep a trade journal and go over past trades will know how to detect where trades went wrong and take steps to mitigate them. A trader who has learned how to use stop loss and take profit targets or when to use limit orders as opposed to market orders is less prone to make simple mistakes that lead to loss of unrealized profits.
But does it stop at trading education? No, because traders now desire a more comprehensive range of research tools that will help improve the trading experience. A trading education article can paint a picture of the cap on the amount a trader should expose to the market at any given time, but what about providing a tool to help the trader calculate this amount? That's why some of the top-rated forex brokers on the list above all feature various calculators that will supplement whatever knowledge the trader gets.
8. Regulation
This discussion is not complete if the role of regulation in providing a secure trading environment for traders' funds is not discussed. Regulation is all about protecting the consumer, who, in this case, is the trader. An important aspect of regulation is funds' segregation. These days, traders desire to operate with top-rated forex brokers with account segregation that prevents co-mingling their funds with the company's operational funds. One of the fallouts of the collapse of crypto exchange FTX is the heavy co-mingling of traders' funds with the firm's funds, with allegations of millions of dollars of clients' funds being used to provide unsecured loans to another company owned by the FTX CEO. Such actions would never happen in the forex market, where regulation is much tighter, and brokers must periodically report all transactions to regulators for scrutiny.
Operating with a regulated broker is a strong demand by today's traders, and most of the top-rated forex brokers listed above provide a regulated environment that keeps traders' funds secure.
What do the most reliable forex brokers offer their clients?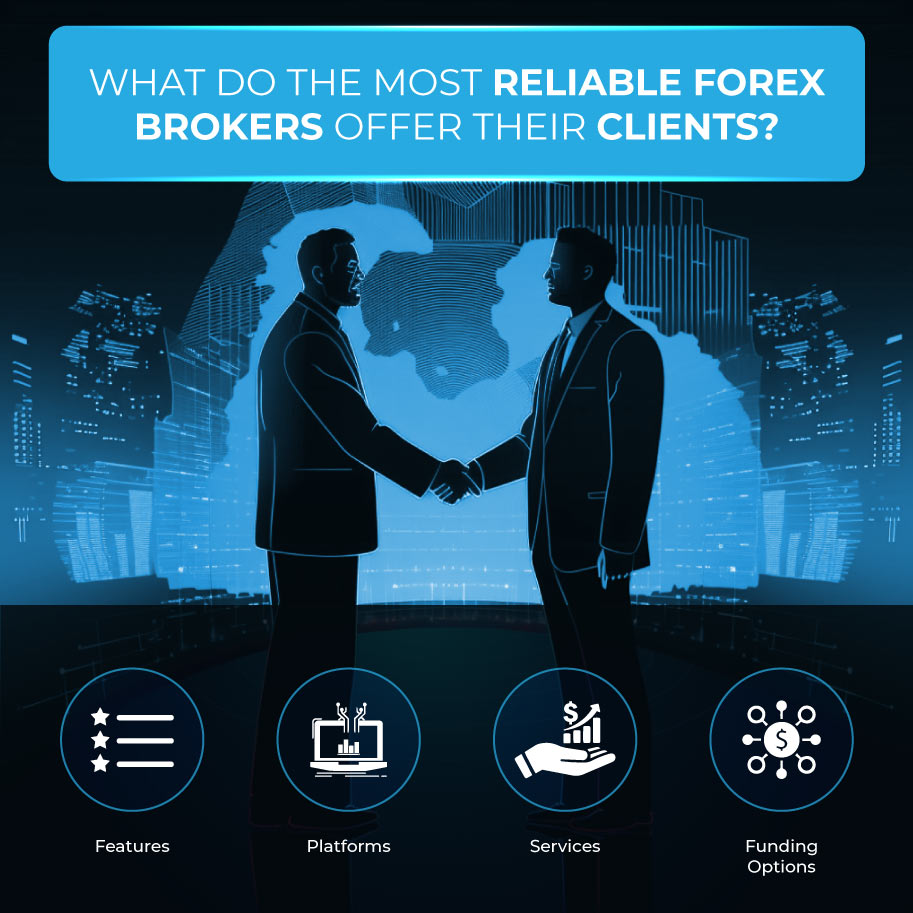 Here are what the top rated and most credible forex brokers for 2020s and beyond on this list offer to clients in terms of features, the platforms, services and bonuses. This list has been prepared by taking into account the level of conformity to the metrics mentioned above by each broker. These top-rated forex brokers also have the characteristics of being flexible, user-friendly, multi-functional in terms of the resources that they make available to traders.
Features
Here are some of the features you get with the top-rated forex brokers on this list.
Regulated brokers with a good track record.
Free trading education and access to various tools and resources such as the economic calendar, currency strength meter, and various calculators such as forex swap calculator and lot size calculator.
Access to virtual private servers for live account holders with no financial commitment whatsoever.
Access to institutional-style accounts where traders have spreads that start from 0.0 pips.
Access to a vast array of payment channels such as crypto funding options.
There are also swap-free accounts for traders who prefer to have Sharia-compliant conditions.
Platforms
The MT4 and MT5 platforms remain the mainstay of retail forex trading as far as trading software is concerned. Following the lifting of Apple's ban on the Metatrader mobile apps, these apps are back in the App Store and are once more available for iPhone and iPad users. As smartphones get more sophisticated, the use of the MT4/MT5 mobile apps is increasing.
If you are new to forex/CFD trading, the MT4 is the best place to start. More than 16 million users now trade with the MT4. As you gain more experience, you can open an account that runs on the MT5. Apart from the MT5, the cTrader is also a viable alternative, even though it is a bit more complex than the MT4/MT5. However, it has extra features experienced traders can use, such as standalone charts and streamlining the platform's interface to match the assets you prefer to trade.
Services
Traders can benefit from some value-added services, as provided by the top-rated forex brokers listed above. These include access to PAMM/MAM account services and copy trading facilities.
Virtual private servers and trade analysis tools such as Autochartist are value-added services that ordinarily come as standalone services that traders must pay to get access to. But by opening live accounts with these top-rated forex brokers, traders are guaranteed access to these services due to the partnership agreements the brokers have with the providers.
Another service that traders tend to overlook is the Myfxbook service. After years of wrangling between Metaquotes and Myfxbook over handling user data, all has been settled, and traders can once more perform analytics of trading accounts and copy trading services.
Funding Options
The ability to trade, make profit and withdraw the same will depend on getting access to an acceptable payment method that works wherever you are in the world. The inclusion of up to ten funding options (including crypto-based channels) gives traders the flexibility to use a system of payment that works for everyone. Gone are the days when some traders were forced to use the slow and expensive bank wire options because their brokers stopped them from using card payment options. There are now payment channels that have broken the barriers of restriction to provide seamless funding and withdrawals on broker platforms.