Did you know?
Not long ago, the retail forex brokerage business underwent a forced evolution that was defined principally by one event: the COVID-19 pandemic. The pandemic brought a sweeping change in the global economic system, and the attendant shutdown of entire industries and job losses that followed led to the growth of other industries which were on the other side of the coin.
One of the industries which blossomed was the retail forex industry. Economically-handicapped individuals all over the world suddenly found that retail forex trading appeared not only to be unaffected adversely by the pandemic but transformed into a space laden with plenty of opportunities. The search for financial opportunity amidst enforced lockdowns and limited choices of income generation threw desperate people into the forex market. Brokers all over the world noticed and began to flood the internet with campaigns designed to get as many clients as they could. However, this also led to the emergence of various untested and unproven brokerages, desperate to cash in on the situation without necessarily offering value to the consumers of their products.
The rush to capture new clients has not ended. 2021 has brought with it an urgency for brokers to mop up the last remaining undecided prospects, before the vaccination campaigns being rolled out all over the world normalize the global economic space.
Many of the prospects being targeted are people who have never heard of forex and do not know a thing about the market. They have only probably heard that it is a place where you can make a lot of money. They probably do not know the roles that brokers play in the entire process. What they probably do not know is that a bad broker can frustrate the entire process in several ways. Some of these ways are:
A) Provide wide spreads that eat into any profit you may make. This may not look like much, but it will accumulate over time. If you are a high-volume trader, this could become a very heavy expense as well.
B) Bad trading conditions such as slippage.
C) Very small leverage which means you have to commit a lot of money as margin collateral for trades.
D) Withdrawals are not processed early or require a convoluted process to fully complete.
E) Disappearing with your funds, which is a worst-case scenario.
Any of these can lead to a very frustrating trading experience. This is why it is important to understand the role that brokers perform and how these can affect your trading outcomes.
Role of Forex brokers
Forex brokers play several roles in the FX market. These roles have evolved over time and will continue to evolve, as events in the last year have proven. As such, forex brokers are now expected to perform the following roles: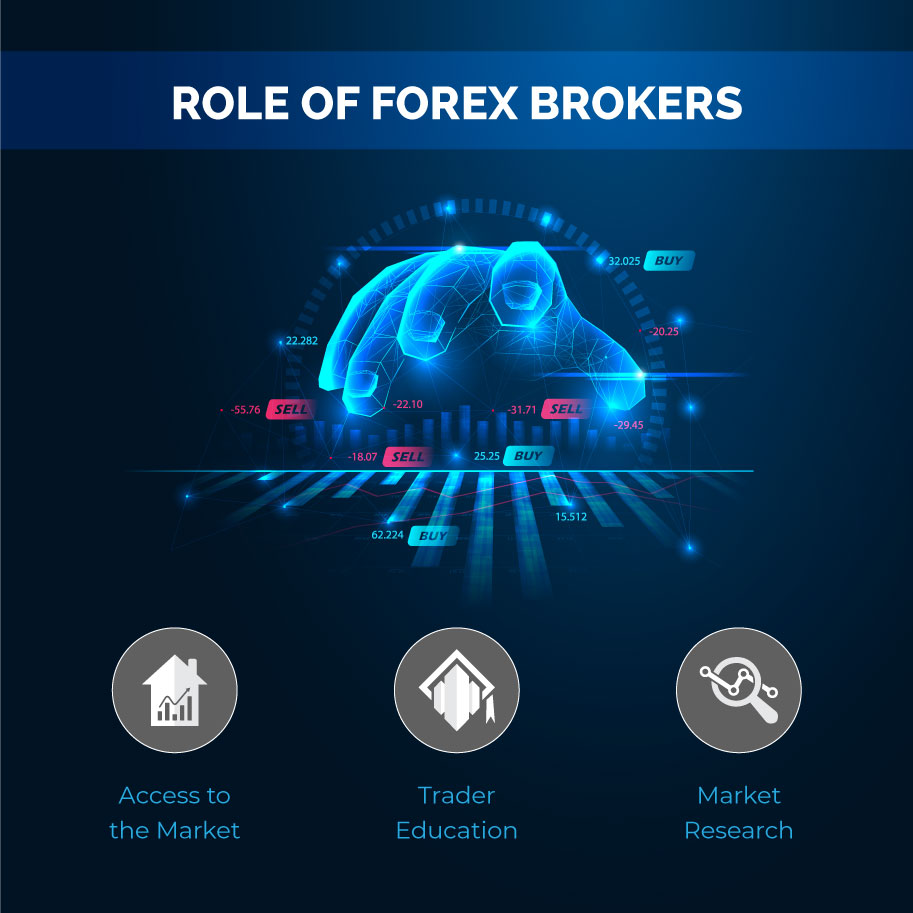 A) Access to the Market
This is one of the more traditional roles of the forex broker and this is not expected to change soon, even though there are new blockchain-based platforms that are now challenging this model. However, these newer models that intend to bring traders together devoid of traditional brokerage linkages are still years away from gaining acceptance. Therefore, the role of the forex broker in matching traders from all over the world using the internet and despite the absence of a physical location will remain as it is for some time to come.
Central to forex market operations is the interbank market, where the big banks offer various currency pairs for sale. If the market is looked at in terms of a supply chain, the production hub is the interbank market. This is where investment banks, hedge funds, and other major market players obtain currency pairs at wholesale prices.
Retail forex brokers also operate at the interbank market as large-scale off-takers. It is the large positions they buy from the sell-side market makers (the liquidity providers) on the interbank market that is provided to the retail clients on their platforms.
The only way to gain access to the interbank forex market, or the dealing desk trading environment, is by connecting to the global network of computers using trading platforms. So without the brokers and the trading platforms they provide, there is no way to gain access to the forex interbank market to trade.
Access can be provided directly using the ECN/STP platforms (also known as direct market access platforms), or indirectly using the market maker platforms that route orders to the broker's dealing desk.
B) Trader Education
Research has shown that 90% of retail traders will lose 90% of their accounts in 90 days. The only way for brokers to keep their hard-won clients trading for a long time is to ensure that the cycle described by this well-established market statistic is broken. Brokers are now realizing that an informed trader is more likely to trade better and therefore stay longer on the trading platform.
The majority of the losing traders (if not all) are traders who are uneducated about the market and who do not understand how to trade profitably. These will end falling by the wayside. No broker wants to spend money acquiring clients, only to have them quit their platforms in 90 days. With brokers realizing that such an arrangement is not good for business in the long run, many of them are now investing significantly into trader education. Videos, articles, and webinars are the common means by which beginner traders are given an introduction into the forex market.
The earliest trader education suites are now almost a decade old. Evaluative studies over that period have shown that trader education is a well-received product from FX brokerages. Any FX broker that does not provide some form of trader education is not worth looking at.
C) Market Research
Once traders get established on the platforms using trader educational resources, their trading activities can be sustained via the provision of market research tools, analysis and news feed. Many brokers have incorporated this into their offerings as well.
Market research is the bedrock of informed trading. Market movements in forex are primarily determined via sentiment analysis. This type of analysis is based on the fact that the markets already have predetermined directions based on the economic data available. Market research brings these to light and waters down the language to the levels that the trader can understand.
As a trader, you should ideally be trading with a broker that can provide some form of market research. This should be a defining criterion to use in choosing a broker.
So what should traders be looking for when choosing a forex broker in 2023?
Criteria to consider in choosing a Forex broker
The criteria for choosing a forex broker have evolved over the years and will keep changing. While there are still some elements that are critical to the choice and which have remained constant over time, there are other parameters that have emerged and which will be considered below.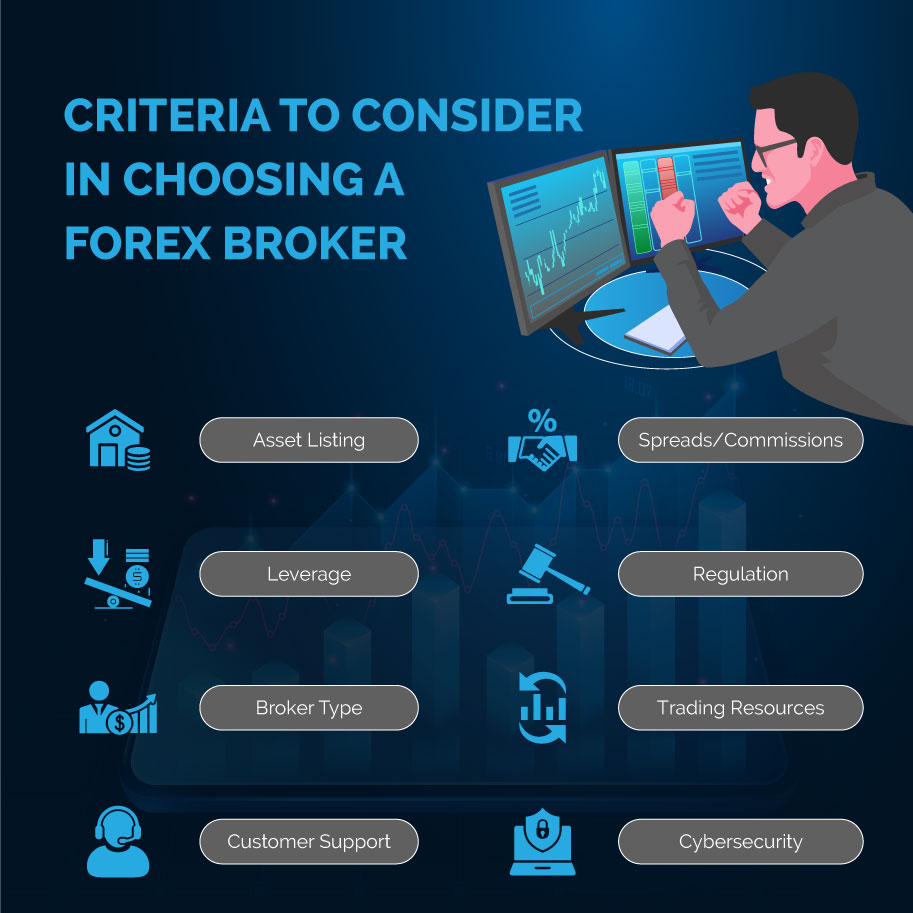 1. Asset Listing
The fallout from the coronavirus pandemic and all the actions taken by policymakers have created opportunities in certain trading pairs that did not exist few years ago. One of these opportunities is the carry trade.
The carry trade is a trading style where the trader holds a long position in a currency with a higher interest rate, while simultaneously selling a currency with a lower interest rate. Central banks across the world were forced to adjust interest rates lower when the coronavirus pandemic began to exert a very damaging impact on every country. Some adjusted theirs more than others, and some have started to raise rates once again. This has created a situation where certain currency pairs now have sufficient interest rate disparities to support the carry trade strategy. Examples of such pairs are the USDTRY, USDZAR, and USDRUB.
Apart from the carry trade, the recent rise in US bond yields has started to cause a shift of investment capital from low-yielding/non-yielding assets to assets that are considered as the "risk-on" assets. This scenario has created opportunities for trading in several metal commodities, the Swiss Franc, British Pound, Australian Dollar, Kiwi Dollar (New Zealand Dollar) Japanese Yen, and US Dollar.
Therefore, you should be looking for FX brokers that feature several combinations of currency pairs built around these assets. Ensure that you get the best trading conditions possible around the trading of these pairs. One of the things to look out for is the spreads and commissions that are payable by the trader for trading these pairs.
2. Spreads/Commissions
Spreads are the primary cost to the trader on a retail platform. Lower costs mean that the trader will have a chance to retain more profits, or at least reduce the losses that may be incurred on trades. Competitive spreads are now a factor used in broker selection. It may not be immediately obvious how much savings on spreads can translate to, but high volume traders and scalpers know that when up to 300 trades are placed in a month, or 50 lots are traded, the savings from reduced spreads can add up to become substantial.
3. Leverage
Leverage in forex is now a big deal. What started off in 2010 when leverage caps were introduced in the US by the Commodities and Futures Trading Commission (CFTC), has now been extended into the United Kingdom and Europe. All the ASIC-regulated brokers in Australia are now apply almost the same margin conditions on their platforms as their counterparts in Europe and the UK. The days of trading with 1:500 leverage on Australian FX brokers are gone forever.
Retail traders in the UK and EU have seen leverage caps reduced from as high as 1:500 to just 1:30 for major forex pairs. Minor pairs and CFDs have even tighter leverage limits. This has increased margin requirements significantly. However, some brokers outside these jurisdictions have continued to maintain the high leverages, thus attracting traders who have been left in the cold by the leverage caps. Some of the UK/EU brokers have also opened international divisions, where their international client accounts are being migrated to. So traders now have a choice of operating with the low leverage brokers, or the high leverage ones.
4. Regulation
Despite everything, market regulation will continue to remain a key factor in broker selection. Regulation ensures that traders are protected and that the trading environment is transparent and secure. The brokers presented on this site are regulated in their respective areas of operation, which ensures that traders who open accounts with them are assured of the safety of their funds.
Regulation also ensures that level trading conditions are provided for all traders and that the brokers fulfill their responsibilities to their clients.
5. Broker Type
Do you trade with brokers that provide direct market access to the interbank market, or do you trade within the dealing desk environment? As a trader, you need to know how each market access route will affect your capital and your positions. Market makers provide indirect access because they buy positions from the interbank market and resell them to their clients using a dealing desk. Market makers usually require smaller amounts of starting capital, provide fixed spreads, and tend to have more slippages and requotes. They provide a low barrier for market entry.
ECN brokers on the other hand, provide direct market access. They require large amounts as initial capital, provide variable spreads, but do not have slippages and requotes. However, they charge commissions on trades in addition to spreads. At the end of the day, the trader's financial capacity will determine if a market maker or an ECN broker will be selected for the trading venture.
6. Trading Resources
Trading resources are generally tools that are provided by a broker to enhance the trading experience and potentially improve a trader's trading outcomes. It is about finding the broker that has the right mix of trading resources that cover market research, actionable analysis, up-to-the-second news and other resources.
7. Customer Support
Customer support can now be offered using a variety of means that were not in existence a few years ago. Social media channels such as Facebook and Twitter, as well as messaging apps such as Telegram, can now serve as channels for receiving near-immediate responses from a broker's customer support desk. Choose a broker with a diversified customer support structure that deploys these new means of communication.
8. Cybersecurity
There has never been a consideration of cybersecurity as a basis for choosing a broker, but the world we live in is a different place from many years ago. It may seem strange, but the cybersecurity became an issue thanks to coronavirus. The US Federal Bureau of Investigation (FBI) has reported a 300% increase in cybercrime during the COVID-19 pandemic.
Now more than ever before, you need to do some research of your own as to how secure your personal and financial data on a broker's platform truly are. This is now something every trader should consider when choosing a FX broker.
Our list of Forex brokers
The list above features the best forex brokers selected by us for 2023 year. It has been prepared after due consideration of all the factors mentioned above. Here you can find both highly regulated brokers, unrestricted offshore brokers, and of course EU/UK/AU brokers with their own offshore divisions. Feel free to read our forex broker reviews and make an informed choice based on the contents of this website.