Below you will find a list of Forex Brokers offering trading accounts featured by the option to copy trades of other clients (signal providers). Basically, any broker with MetaTrader 4 or MetaTrader 5 platform offers the opportunity to receive trading signals from various professional traders. Metaquotes Software Corp (the developer of MT4 and MT5) has own enormous pool of participants sharing their trading activity for free or for money. Still, we tried to make a list of brokers that have own distinctive copy-trading service, different from what Metaquotes offers at their proprietary platforms.
Who are Copy Trading Brokers?
Copy trading brokers are brokers that provide a platform for less experienced traders to copy the trades of other more experienced traders. The signals are usually implemented automatically on the accounts of the traders who are copying the trades, using an in-built copy trading engine.
Copy trading should not be confused with social trading. In social trading, the action of following another trader's trades is a manual and voluntary action. In copy trading, the copying of another trader's positions is an automated process.
How Copy Trading Works
The hallmark of the copy trade process is automation. This is an advancement of the previous signals system, where traders would receive trade alerts and implement these on their accounts manually. In the copy trade system, these trades are automatically implemented as they happen. All the trade components such as entry price, exit price and stop loss settings, are also copied automatically.
Copy trading brokers provided a system which has a front end and a back office component. At the front end, the trader who wishes to copy another trader, or the trader who wishes to have his/her trades copied, will have access to the copy trade platform. At the back end, we have the administrators and the developers behind the engine. Some copy trade platforms provide some elite traders access to a system where the click of buy or sell buttons leads to automatic implementation of signals on the accounts of those who follow the signals.
Therefore, the system on the platforms of copy trade brokers is made up of the following entities:
Followers
Leaders
Aggregators (usually the brokers)
How do these three groups of participants interact with a copy trade broker platform?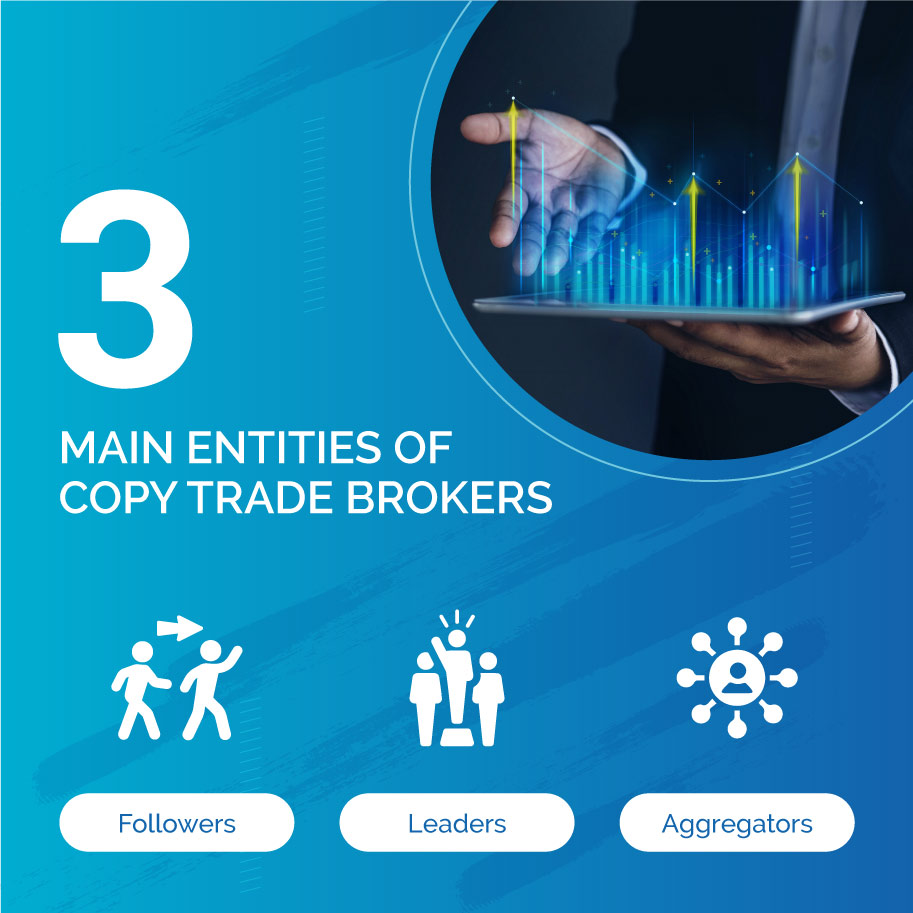 1. Followers
Those who want to copy the trades of other traders are known as Followers. This is because they "follow" other traders' trades. The profile of a follower is that of a trader that does not have the required skills, knowledge or experience to trade profitably. Sometimes, they may also be investors who simply want a passive way to get returns on their forex investments without having to go through the daily grind of watching the charts and picking trade opportunities off them.
What does the Follower have to do to start copying the trades of other traders? They will be given access to the Leaderboard, which usually displays traders that have stellar results in trading based on an algorithm that is worked out by the copy trade brokers. What is displayed is a simply a preview shot for each Leader: statistics shown include % profitability, the risk profile being applied by that trader and how many months that trader has been on the platform. Some platforms will also show you how many people are copying these traders, but this particular data set should really be ignored because it has been shown time and time again that the herd mentality really does not make for good results in forex.
Followers can make a choice of one or more traders to follow. Certain parameters can be set by the trader during selection. These parameters include risk settings, capital allocation, etc. In order to start copying trades on a copy trade broker platform, you must open an account as a Follower.
2. Leaders
Leaders are those traders who feel that they have what it takes to be profitable in the forex market, and they submit their trades to the copy trade system so that the Followers can copy their trades. They are also provided with front end access where they have to register their profiles as Leaders. Usually, some significant trade history that spans at least 6 months must be generated before a trader can open a profile as a Leader.
Criteria and algorithms used to display the top Leader performers on the leaderboard will differ as you move from one copy trade broker platform to another. Some platforms are very strict with this factor and will even restrict the number of traders who can work as Leaders on a platform. Leaders have a lot of responsibility and with platforms always changing their selection algorithms, Leaders have to stay on top of their game. It is a high pressure environment for any Leader as consistency of profitability over a long period of time is not an easy feat to achieve. Leaders will have the opportunity to see how many people are following them, and how much they have earned from their work as Leaders.
3. Aggregators
The copy trade brokers are the aggregators: they use their platform to bring together the Leaders and Followers and provide the entire technology backbone that keeps the copy trade engine up and running. The aggregator team is composed of system administrators, developers, programmers and cyber-security experts. These experts work together to provide a transparent algorithm for display of Leaders on the leaderboard, and also maintain the function and integrity of the core copy trade engine. This engine also enables every trade delivered by all Leaders to be implemented with as little latency as possible on the accounts of their followers.
Control of accessibility to the system by both Leaders and Followers is maintained by the System Administrators. The use of secure web socket technology such as SSL keeps the database safe and secure.
The Mechanics of Copy Trading
From the side of the Follower, the process goes as follows:
Choose one of the brokers that are listed above and open a copy trade account as a Follower.
For brokers that offer copy trading from the MT4/MT5 platforms, you should consider Leaders who also have some of their trading history imported into 3rd party verification sites such as Myfxbook.
For brokers that offer copy trading from a proprietary trade engine, go straight to the Leaderboard and scan the listing of Leaders for those you can select to follow.
Allocate a portion of your capital to the Leader(s) you want to follow.
Click on the "Copy" button or any other button that will enable you complete the process.
From the Leader's angle, the process is as follows:
Register a trading account on the copy trade platform and generate a trading history of at least 6 months.
Once you have reasonable trading history that is profitable, you can enroll as a Leader on the same platform. Some copy trade brokers may allow you to import your trading history from the MT4/MT5 onto their platform.
Keep improving your trade stats to ensure you are listed on the Leaderboard.
Our list of copy trade forex brokers shows the forex brokers across the world that we have found to be worthy providers of this service. There are those who offer their copy trade service within the context of the MT4 and MT5 platforms, and there are also brokers that have developed their own proprietary trade engines. No matter what channel these brokers use for their copy trade service, the principles of listing of Leaders and selection of these Leaders by Followers remain basically the same.