The MetaTrader 4 and MetaTrader 5 are two platforms designed by Metaquotes Inc and released in 2005 and 2010 respectively. The MT5 was built to be the successor of the MT4, but because of the popularity of the MT4, the replacement has never really worked out. Most brokers have ended up letting both the MT4 and MT5 run side-by-side. Even Metaquotes seems to have accepted the situation and decided to run along with it.
The popularity of these two trading platforms among retail forex traders has been immense. Indeed so immense has been this popularity that brokers such as Avatrade (formerly Avafx) which never used to offer the MT4, were forced to introduce the platform to their clients. For brokers, it was a clear-cut business decision: either offer the MT4 or MT5, or be prepared to lose clients to competitors who offered them. Today, there is hardly any retail brokerage that does not offer these platforms. For traders, it was a matter of choosing a broker that offered the MT4 or MT5. If these platforms were not offered by a broker, traders would simply move to the next broker that had them.
But the big question is: what is it about the MT4 and MT5 that has made them hugely popular among retail traders? The answers lie below.
1. Ease of Use
The first thing that stands out about the MT4 and its successor platform is the ease of use of both platforms. Forex and CFD trading on its own can be challenging. Why would a broker make a trader's job harder than it already is by introducing a platform that most would find very hard to use?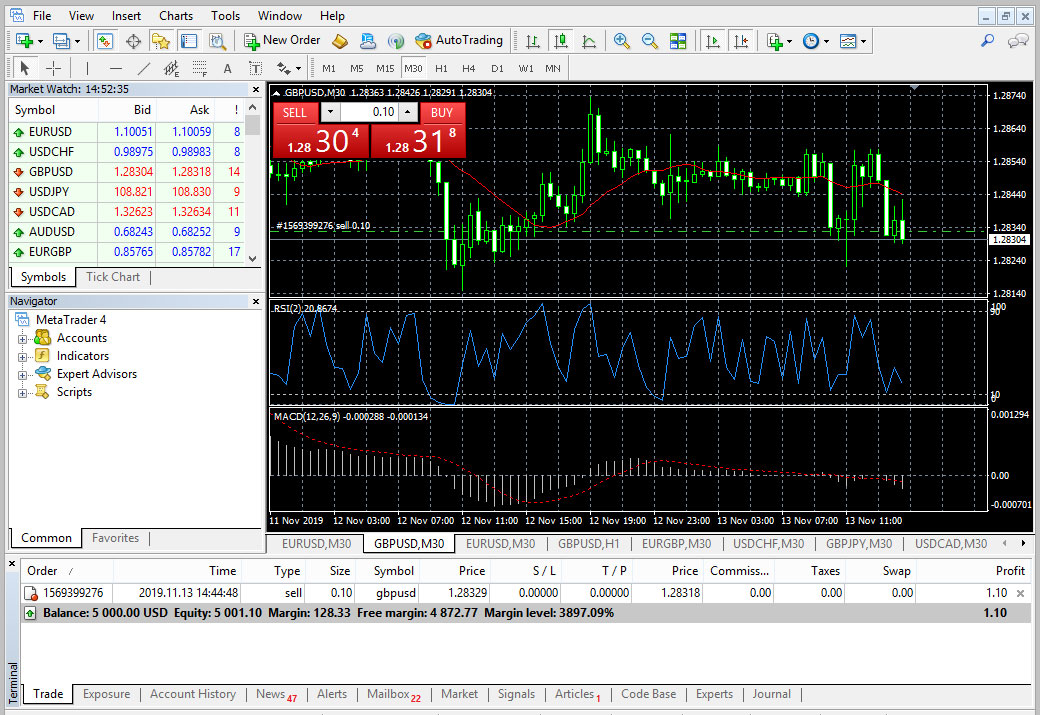 MetaTrader 4 interface
As a forex trader who has also held training seminars, one area where I have seen traders have massive challenges is in the use of trading platforms, specifically to navigate around the charts, functions and order placement buttons. The MT4 and MT5 make this process very easy by providing a variety of shortcuts and alternative pathways to executing functions. For instance, placing a New Order on the MT4 and MT5 can be done in three ways. You either use the F9 button, or you click the New Order button in the platform's interface, or by clicking Tools ->New Order. You can even generate a new order from an open chart as well by right-clicking on the chart, then clicking Trading -> New Order. Four pathways for that single function, which provides flexibility.
By providing its users with easy ways to use the platform for various purposes, the MT4 and MT5 have attained popularity which will be very hard to erode.
2. Multi-Purpose Platform
The multi-purpose nature of the MT4 and MT5 also make them a darling of forex traders. These two platforms provide a variety of functions which are necessary for the trading process. For instance, the News bar in the Terminal window allows users to get access to market moving news as the events are happening. Some of these news can have immediate market impact. For instance, the British Pound gained broadly in a matter of minutes when it emerged that Nigel Farage's party would not contest the Dec 12 UK election because they wanted to create a straighter pathway for a Conservative Party victory. Without the News bar, how would a trader know what was causing such rapid price movements on GBP pairs?
There are other functions which the MT4 and MT5 trading platforms serve. They contain interactive charts which permit the user to study the markets and analyze assets before trading. They also have the Market and Code Base tab in the Terminal window which enables the trader to connect to the MQL Community website to purchase scripts, indicators and expert advisors. Traders can also pay directly for these items using their MT4 or MT5 account balance. Imagine seeing an EA advert on the Code Base tab for the robot that matches what you want. You just click against the software ad, or go to the Market tab and click it to be connected to the marketplace, where you can review the product and pay for it from your trading account.
Other functions and features exist, and mostly found on the MT5. These are:
Access to the Economic Calendar, which showcases the major economic news events and indicators from various countries.
Funds transfer between multiple account belonging to the same trader.
Connection to the embedded community chat function.
Ability to have just a portion of your orders filled.
Use of the "fill or kill" function to avoid slippage.
These are additional features in the MT5 which provide superior trading functions that are the toast of retail forex traders.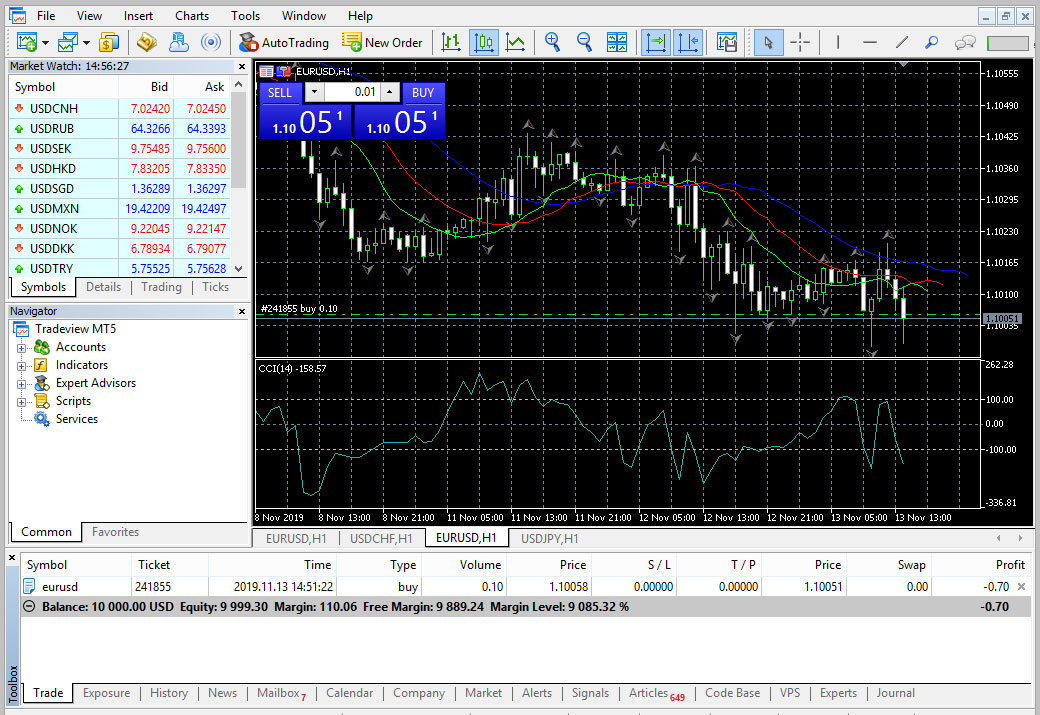 MetaTrader 5 interface
3. Forex and CFDs In One Place
The MT4 and MT5 platforms can now be considered a one-stop shop to trade all markets; either as forex pairs or as CFDs on indices, stocks and commodities. It is also possible to trade cryptocurrency pairs as CFDs on these platforms, although this is still evolving and may not be available on all MT4/MT5 brokers. This way, you get access to any market that is trending or moving so you never miss out on an opportunity.
4. Automated Trading With Robots
This is the icing on the cake. The MT4 and MT5 were virtually the first platforms to enable traders use forex robots to open and close positions automatically. The best part is that the coding languages and interface used for forex robot design and optimization are built into the platforms directly. This allows for emergency editing and debugging of a robot, optimization and redesign for better functionality. Forex robots are so popular that it was reported in 2006 in an African country that a seminar to teach people how to use forex robots was so heavily oversubscribed, the organizers had to lease a bigger venue on the spot to accommodate the surging crowd.
5. Exists in Different Versions
Today, you can trade the MT4 or MT5 as a desktop client (original design), a web-based version (Webtrader) and a mobile generic platform. The MT4 also has a Multitrader for multiple account management. Each mobile platform is specifically designed for iOS and Android devices (smartphones and tablets). With the way people have become so attached to their phones, is there any wonder why the MT4/MT5 mobile versions are so popular?
Closing Note
It is safe to say that the MT4 and MT5 are the most popular retail forex platforms in the world today. This popularity does not look like it will be challenged anytime soon. This article has showcased the commonest reasons for this popularity. If you have used the MT4 or MT5, you can also attest to these points.