The crypto space is filled with so many apps. Many of them are already established in the market while many others are relatively new and are yet to catch public attention. In this article, we are going to explore some interesting crypto apps that are worth using.
1) Trust Wallet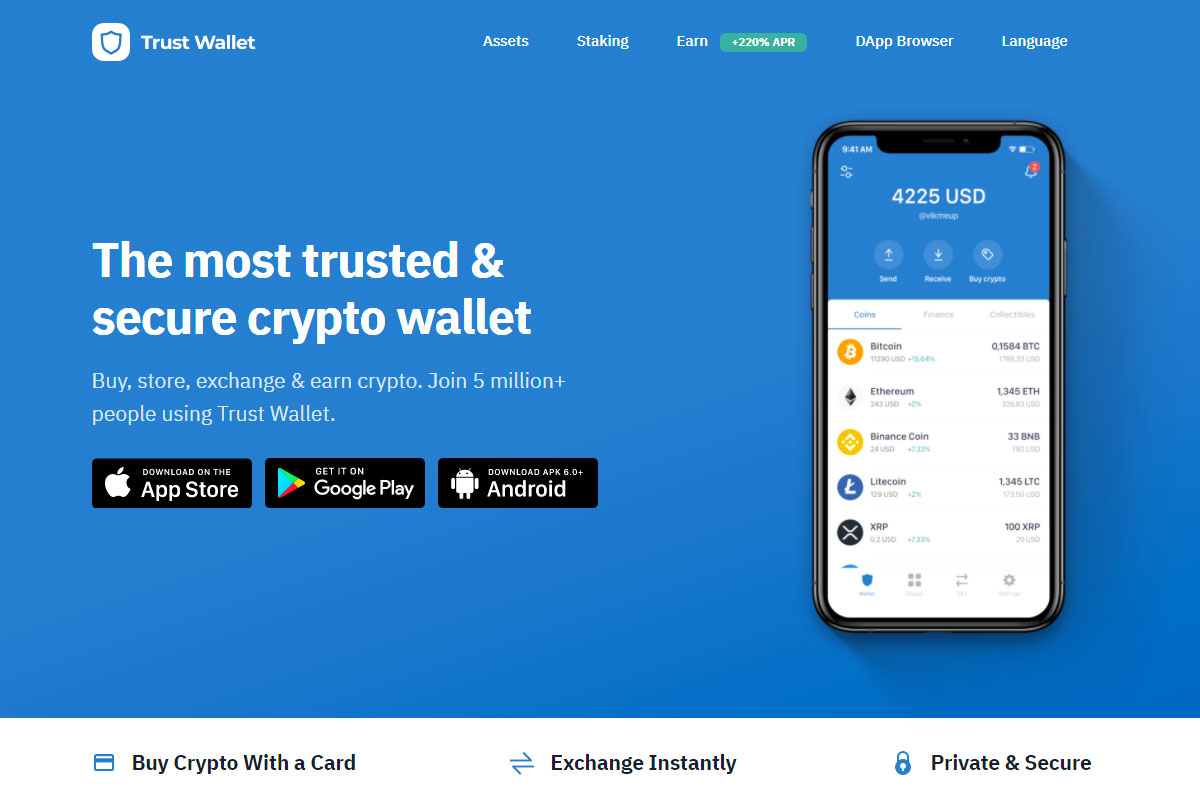 Developed and released in 2017 by DApps Platform Inc., and acquired by Binance in 2018, Trust wallet is a decentralized and open-source crypto wallet that is used to store different cryptocurrencies. Although it is built on the Etherium protocol, Trust wallet does not just store Etherium tokens only. Other crypto coins and tokens such as Bitcoin, Dogecoin, Lite coin, BCH, etc. can be stored with Trust wallet. The app is available on mobile for both IOS and Android devices from versions 13.0 and 6.0 respectively.
Trust wallet has the following features:
Server-free installation.
Biometric security.
DApps
Client-based security infrastructure (access key is stored on devices).
QR Code for faster transactions
Low memory consumption.
Staking of assets and earning profits on the same.
Trust Wallet Tokens (TWT) are the native token of the Trust Wallet and these are also available for purchase and trading. TWT has a market cap of around $23.72m.
2) Centrifuge
Centrifuge promises its users access to bankless liquidity as well as the opportunity to bring crypto assets under a DeFi umbrella. Users of the Centrifuge app also provide users with the chance to invest in a diverse range of asset backed pools in return for a stable return on investments. Centrifuge offers two main products: Tinlake and Chain.
Tinlake is the core asset-backed decentralized application on the Centrifuge app. You have some crypto assets that need financing? Tinlake is the product for you. With Centrifuge Tinlake, you can bring your assets to the platform and securitize them, allowing others to invest in them or allowing the holder to use them as a collateral for financing. On-chain borrowing against your collateralized assets is a great way to use your crypto assets to get loans, especially if you have no plans to sell the assets.
Centrifuge Chain is a Proof-of-Stake blockchain that allows users to move their assets to the blockchain as non-fungible tokens. Those who want access to Deep Tier Financing solutions for locked up working capital can use Centrifuge Chain to gain the trust of large entities in a supply chain. Are you a small business on the lower end of the supply chain? A product like Centrifuge Chain provides access to accelerated payments at a lower fee, and also provides access to financing at a higher level; something traditional financial institutions cannot deliver.
3) Roqqu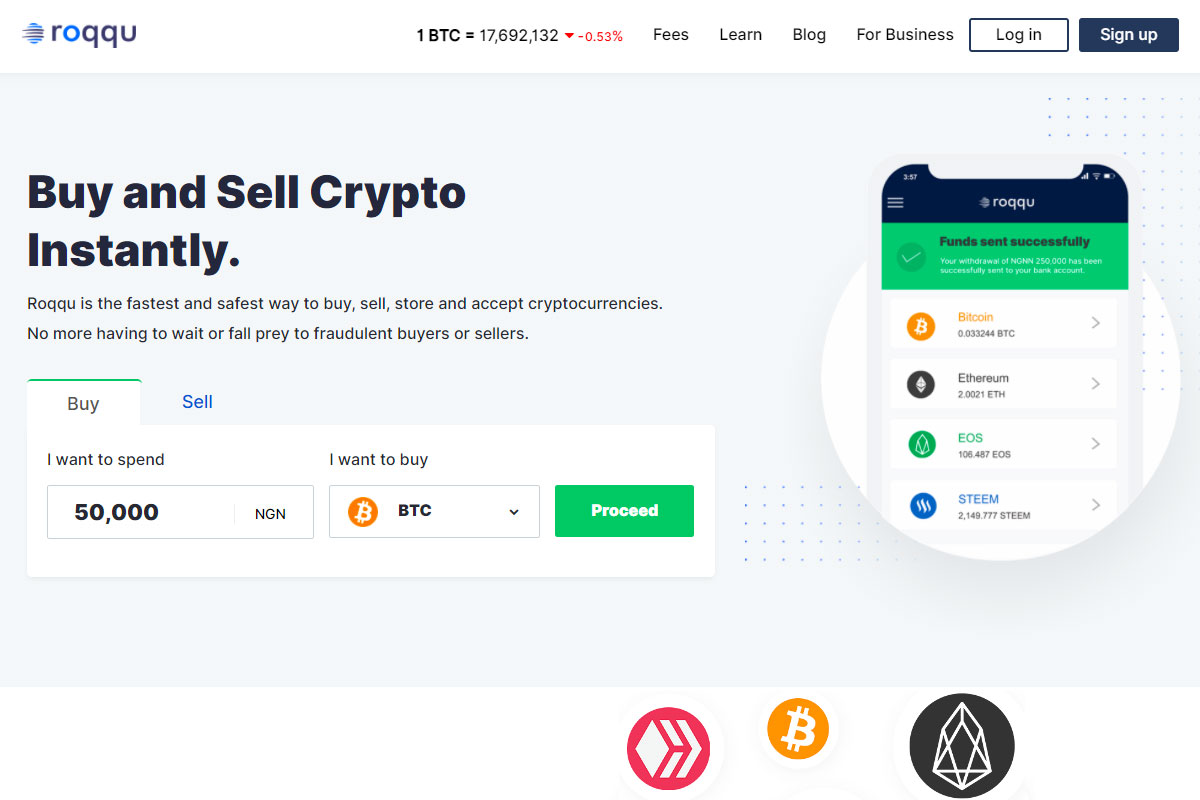 Roqqu is an app that enables users to sell, buy or store cryptocurrencies. It is also a crypto-based e-commerce payment solution, enabling registered users to accept cryptocurrency payments on their platforms. These transactions are all done in the local currency of the user, eliminating the need to hold and use foreign currencies for such transactions.
Roqqu is a daring and innovative app that seeks to further reduce the gap that limits access to the crypto world by providing a fast means to deposit and withdraw using local currencies. Although the software is relatively young, it has managed to gather positive reviews from many traders online. The fees are bearable and customer support prompt in response.
4) Augur
Augur is a blockchain-based financial trading app that allows users to bet on economic events, world events and sports. The blockchain-based prediction market is about the biggest thing to hit the markets, and it started to gain traction way before DeFi apps came into being. The Augur app aims to replace the traditional betting systems which have largely been described as exploitative.
Augur presents an opportunity to create your own markets (if you are a developer), or to bet on markets in a transparent fashion with no limits on betting amounts and no requirements to rollover bonuses or winnings. Furthermore, Augur makes the betting market globally accessible. Augur is powered by Ethereum, and also features a USD-trading option. The betting UI and exchange is still in development, but Augur promises to be the betting platform to be in 2021 and beyond.
5) Kava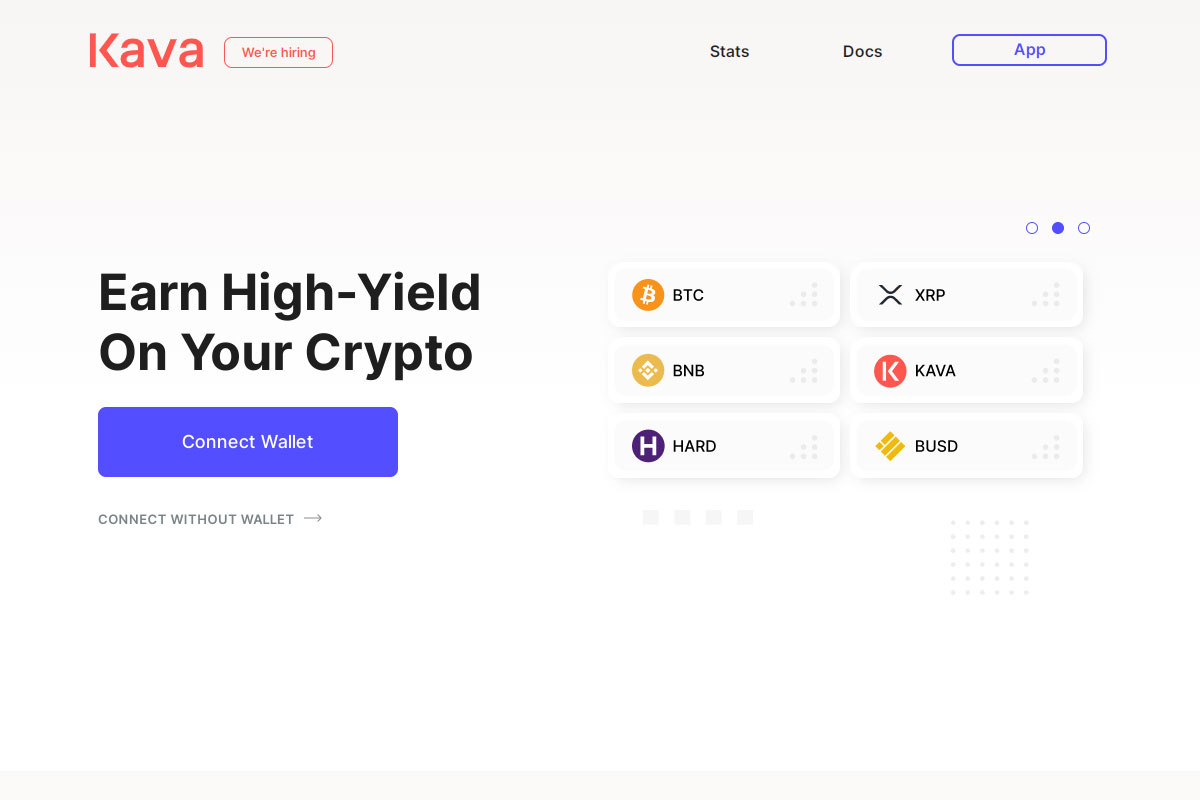 Kava is a crypto lending app that allows users to earn interest on their BTC by minting USDX stablecoins. Using the Kava app, users who desire to borrow using their crypto assets as collateral can also do so. A wide range of digital assets can be deployed for lending and borrowing purposes.
So rather than keep your crypto assets dormant in a buy and hold mode, you can switch over to a hold and earn mode by lending your cryptos for interest. BTC, BUSD, XRP BNB, KAVA and HARD are the featured crypto assets on the Kava crypto app, and connectivity between the Kava app and community-built apps on Binance, Frontier and Cosmostation exists.
6) Perpetual Protocol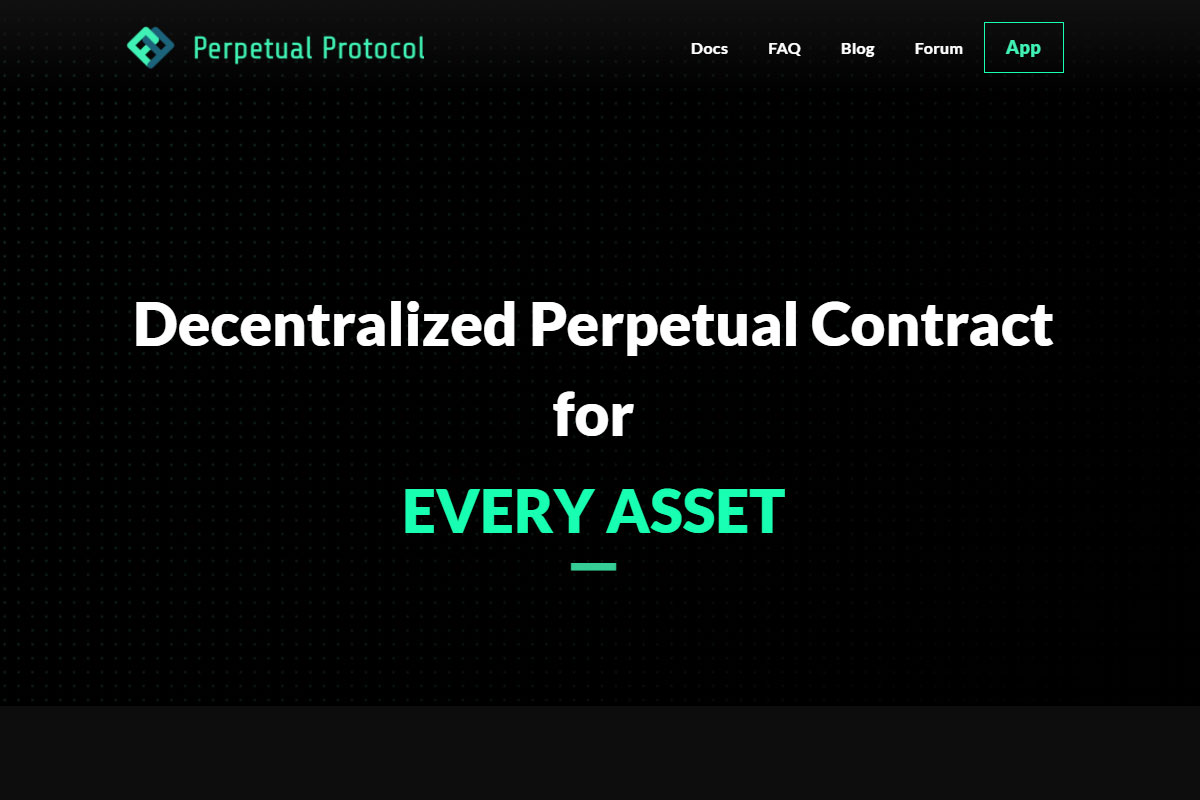 Have you ever heard of a decentralized perpetual contract that features automated market making for crude oil, Bitcoin, Ether and several other traded assets in the financial markets? This is what the Perpetual Protocol crypto app offers.
You can trade with a leverage of X20 on various assets, including cryptos and ERC-20 assets. The virtual automated market maker is the hallmark of the Perpetual Protocol app. Rather than have a market maker stand between you and the interbank market, the developers use the Perpetual Protocol to create an interface where an automated market maker is able to get liquidity reserve that is provided by stakers (acting as liquidity providers), and serve the trader the market pricing for the traders, while providing extra trade capital (leverage) that enables the leveraged trades.
This is similar to the market making operations in the traditional financial markets, but with a huge difference.
The liquidity providers are stakers and not the big banks, and the market making process is automated and non-predatory. There is no human dealing desk looking at orders, sorting them into A-books and B-books, etc. Unlike the restrictive 1:2 leverage system for crypto trading on conventional platforms, traders get a 1:20 leverage positioning for all crypto assets.
7) MyCrypto Wallet App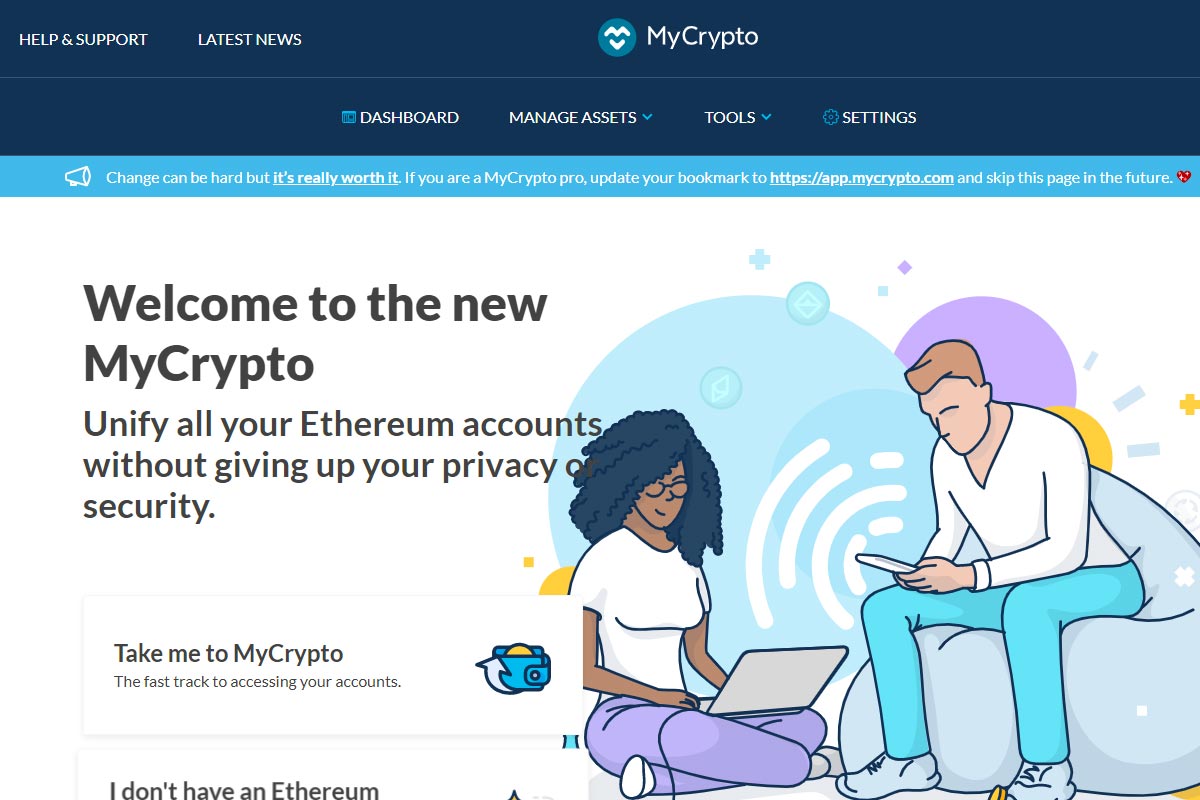 Tired of owning so many apps and juggling between all the private keys and security information needed to maintain the integrity of these apps? Then MyCrypto is something you can look at. MyCrypto allows you to control all your wallets from one point.
The MyCrypto downloadable app works with various hardware wallets (Trezor, Ledger, etc) to create a one-stop shop for storing and maintaining all your wallets. You can also swap Ethereum and several tokens, check the status of a transaction, broadcast a transaction, create new wallets.
8) dHedge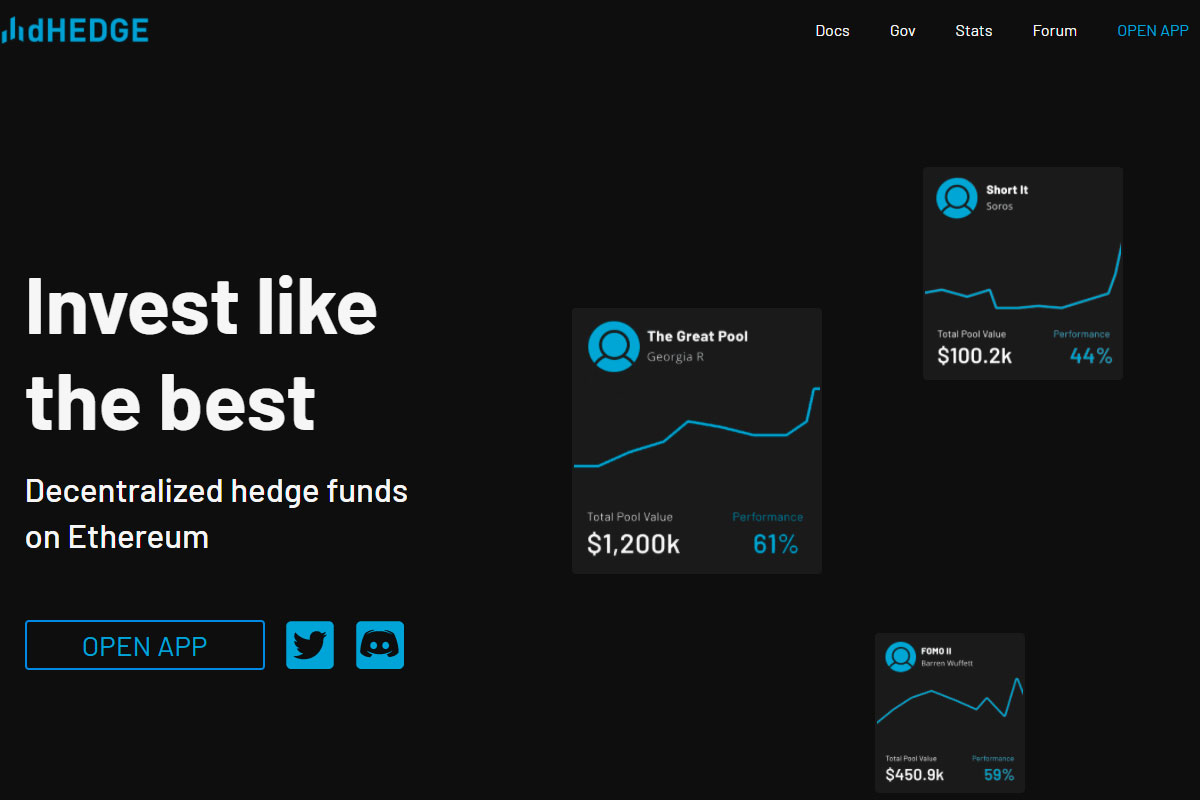 dHedge is a decentralized asset management protocol that works on the Ethereum network. Using dHedge, an investor can get access to some of the world's best investment management services on the Ethereum blockchain. Prior to the onset of blockchain-based asset management, investors needed to of extremely high net worth, pass a host of complicated KYC requirements, and pay hefty fees for asset management. dHedge finds itself as part of a revolution of this industry, decentralizing and simplifying asset management, in a non-csutodial fashion. With dHedge, you can access various investment strategies and put your capital to work with any strategy set that matches your risk profile. The best part is that
dHedge will accept any investor; you do not need to be a financial powerhouse to qualify for asset management services. There is no minimum asset or investment size. Come as you are, pick any investment strategy on the leaderboard and let your crypto assets work for you. A proper governance structure protects all investments and gives all holders of the DHT token access to voting rights on any innovations to be made on the platform.
9) TokenTax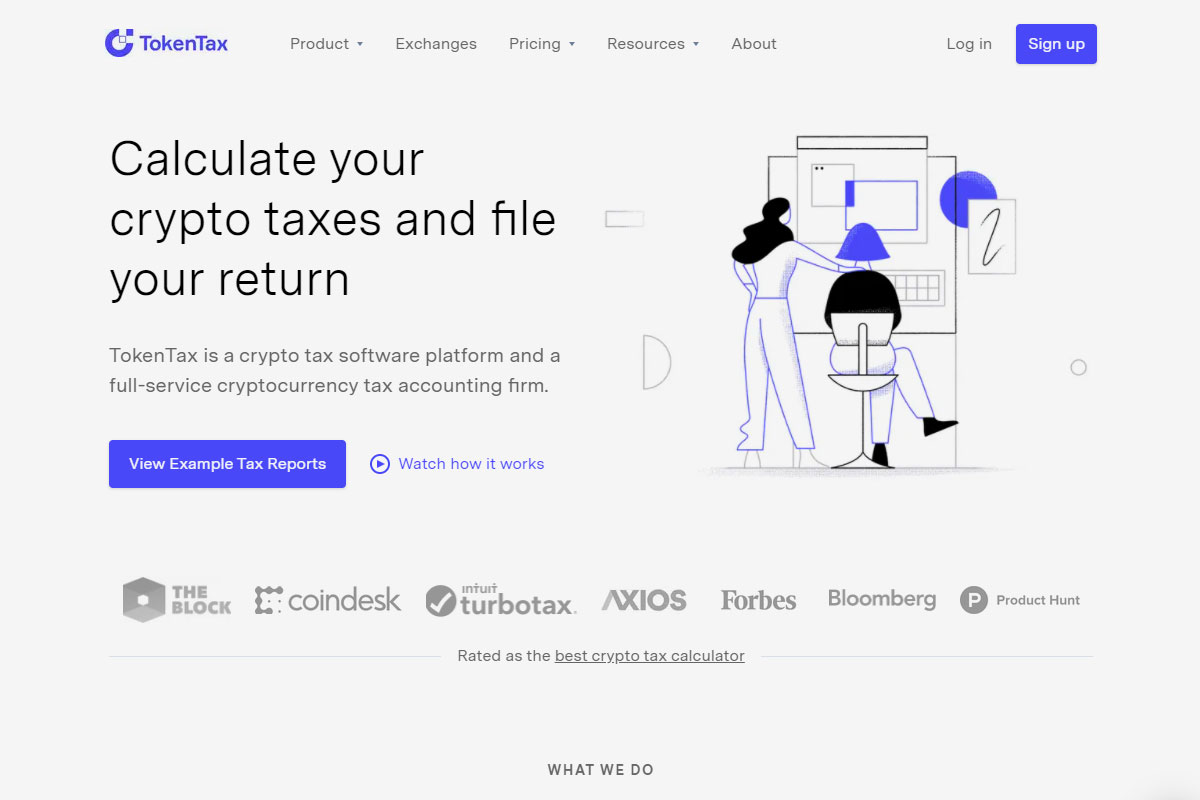 With several countries now introducing tax on cryptocurrency transactions and earnings, it would be great to know just how much tax you are liable for. TokenTax is a cryptocurrency and DeFi accounting app that provides a simple and automated way of working out your cryptocurrency taxes. You simply connect the app to the exchange where you do most of your crypto trading or crypto-related transactions, track all your trading activity, work out your capital gains and losses, and get the tax amounts calculated. When this is done, you can use TokenTax to generate a tax form, or you can import the data from previous steps into the TurboTax function. TurboTax works for all crypto transactions on Binance, Coinbase, and Bithumb, as well as 63 other exchanges. This app is a must-have for traders in the US and Europe.
10) LoanScan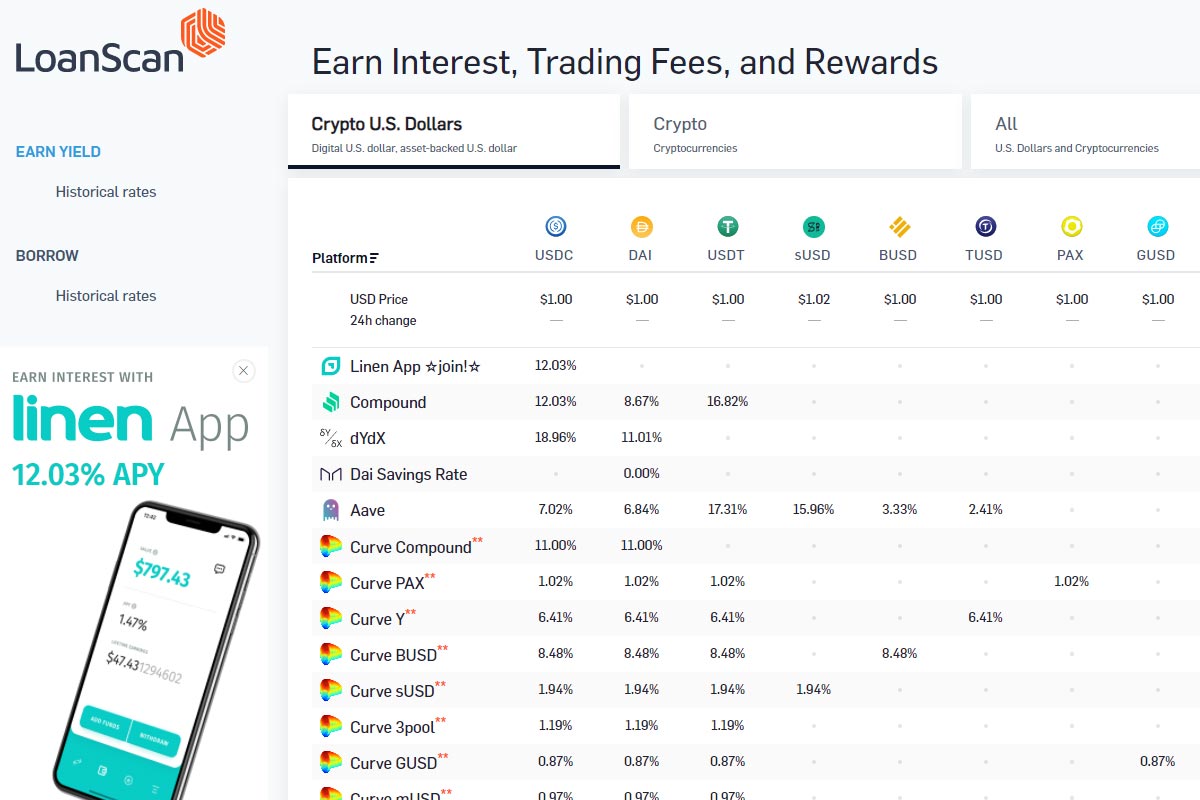 LoanScan analyses several cryptocurrency loan platforms and provides information as to the best rates of interest on investments covering several stablecoins as well crypto tokens. LoanScan calculates the APY on USDC, DAI, USDT, sUSD, BUSD, TUSD, PAX, GUSD and MUSD across crypto loan apps such as Aave, Compound, Coinbase, InstaDApp, DeFi Saver, Fulcrum, etc. Cryptocurrencies covered include Bitcoin, Ether, ZRX, UNI, etc. If you want to loan out your crypto assets and want to know where you can expect the greatest rates of interest, this is a crypto app worth considering.